Rainbow Brite Costume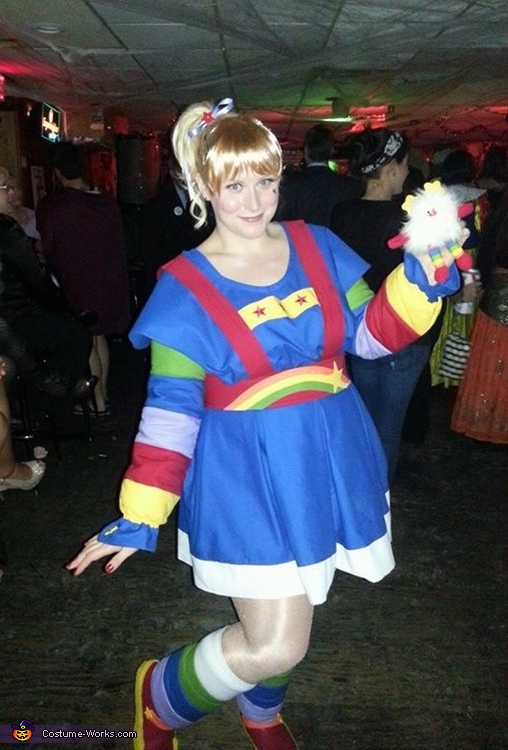 Rainbow Brite Costume
More views:
(click to enlarge)
A word from Tina, the 'Rainbow Brite' costume creator:
My name is Tina, and these photos are of me wearing my homemade Rainbow Brite costume!

As a child of the 80's, I was a huge fan of Rainbow Brite, and it had always been my dream to dress up as her for Halloween. Since I am a plus size woman, I always thought it would be impossible for me to pull off this costume. But with the help of my Aunt Debi, and some creativity and craftiness on my part, we created this homemade, one-of-a-kind Rainbow Brite costume.

My aunt sewed the costume dress and belt/suspenders using a plus size jumper pattern and the arm/leg warmers using a pattern for leg warmers. The costume fabric, lavender ribbon, red star patches on my top, yellow star buttons on my wrist cuffs and shoes, red star button on my hair bow, and the felt used on my boots were all purchased at a local fabric/craft store.

The boots are rain/snow boots that I bought online. I hot-glued felt around the bottom and across the top of the boots to look like her shoes, and I hot glued the star buttons on top of that to look like hers.

The jumper was open on the sides, so I wore I matching blue tank top underneath, and it worked out great. For the belt, we used fabric glue tape to glue on the thick pieces of fabric making up the rainbow/star. I wore women's shimmery dance tights for warmth and to look more put-together.

My hair was only medium length, and I didn't have bangs, so I found clip-in hair pieces (bangs and one curly blonde extension) at a local beauty supply store. HOnestly, besides the boots, those were the most expensive part of the costume! For the hair bow, I used lavender ribbon and tied it in a bow and hot glued it to a silver hair clip. I then hot glued the red star button on top. For the star on my face, I printed a few star outline graphics on a clear Dymo label at work, cut them out and and colored them in with a lavender Sharpie. That way, I had extras to carry with me in case it came off during the party (which it thankfully did not). I used simple makeup and false eyelashes to mimic her face, and I carried around a mini Twink stuffed animal to add to the authenticity.

Altogether, this costume was pretty expensive - I probably spent about $150 on all the materials; however, we started planning/working on it in June, so that cost was spread out over 4-5 months, which didn't make it so bad.

This costume got rave reviews from my friends and party-goers, and I had a lot of people ask to take photos with me and/or of me, and I also won third place in a very competitive costume contest. I am incredibly proud of this costume and so glad I decided to go for it!