The Adventure Time Prince Gumball & Ice Queen Costume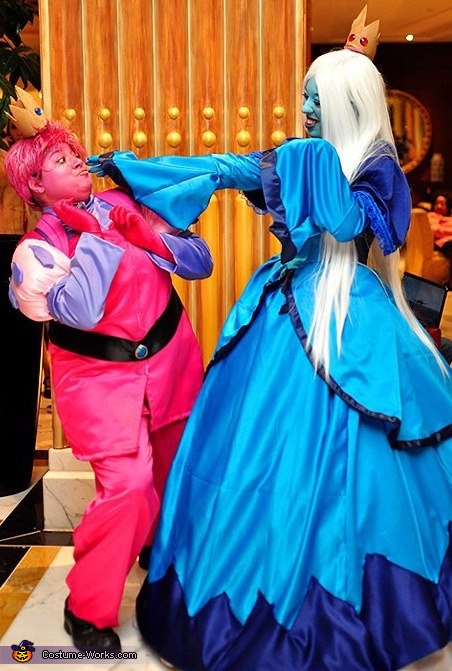 What time is it?
A word from Jessica, the 'Prince Gumball & Ice Queen' costume creator:
My sister Felicia is wearing Prince Gumball from Adventure Time with Fionna and Cake. She made this costume out of satin. She also did a custom dye for her wig she used. It took a month to make. She used a basic shirt and pants pattern, an elastic waist band for the pants, and Velcro to shut the top (since she can't sew zippers). She altered the collar by drafting her own pattern. And stuffed the sleeves with polyfill for that extra puff. The gem on the collar and belt was hand painted with sinful colors nail polish to get that extra shine and the crown is made of craft foam.
I am wearing Ice Queen from Adventure Time with Fiona and Cake. I also made my costume. It took 16 yards of satin, a 6 layered hoop skirt (which I bought from a bridal store), and lots of patience's to make. My costume also took a month to make. I used five different patterns for my dress (one for the sleeve puff, one for the peplum, one for the skirt, one for the lower part of the bodice, and one for the lower sleeves). I drafted the bottom triangles of the dress and bodice design myself. My crown is also made from craft foam as is my necklace. I painted my necklace jewel the same way with nail polish paint.
We decided to dress up as Prince Gumball and Ice Queen because we loved the outfits and wanted to make them. The funniest part was running around in face paint and white contacts xD