Piccolo from Dragon Ball Z Costume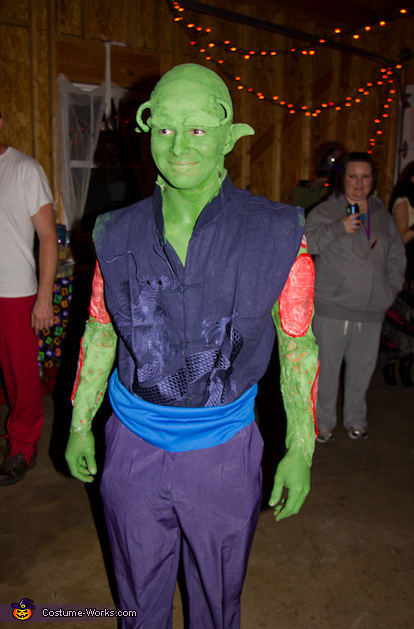 Final Product
More views:
(click to enlarge)
A word from Sid, the 'Piccolo from Dragon Ball Z' costume creator:
I have been a fan of the TV show "Dragon Ball Z" since I was probably six years old. So naturally I chose to be one of the coolest characters, Piccolo. My family always got into Halloween every year and we've participated in many costume contests, parades, and camp outs. My younger brother started watching the show so I wanted to impress him and the rest of my family and friends with a cool costume.

I have been planning the costume since the Summer of 2013, trying to map out exactly how I would carry out each of his complex features. I researched and gathered the best methods of costume DIY creation to figure out how I would apply them to my own idea. I purchased a block of clay and molding tools and then began to shape the molds of his antennas, ears, eyebrows, arm tissue, and arm bubble tissue. As I finished the molds, I baked the clay in the oven to make it hard. From this point, I had to get my hands on some liquid latex. Since I'm a college student without a car in Philadelphia I had to call and bike all around Philly trying to find a store that sold it. I couldn't find exactly what I needed, so I took a chance on some liquid latex body paint from a local adult sex shop. I applied the latex in layers to each clay mold and then once it was thick enough, I applied baby powder so the latex would not stick together. Meanwhile I ordered a bald cap, clear liquid latex, body paint, and borrowed some acrylic paints and paint brushes from my father and my roommate. After all of the latex molds were complete I began to apply a base coat to each latex prosthetic. Then I applied a final coat accordingly. I made several trips to Chinatown so that I could find clothing for my character, and then a trip to the fabric store to buy material for his sash. On the night of my parents' annual Halloween Party, I had my father help me apply the bald cap and body paint to the parts of my head I could not see. I spent hours applying the prosthetics with spirit gum and liquid latex, one prosthetic at a time. I used a blowdryer to speed up the drying process. Once I had all of the prosthetics applied, I put a coat of Mehron's green face and body paint all over my face, neck, chest, as wells as the prosthetics on my face and arms. Then I attached the pink bubble-like tissue to the arm prosthetic. Finally I suited up with my Dragon top, purple bottom, and sash. The make-up production process took around 5 hours. I would have liked to spend more time but since I had locked myself away in the bathroom, and the party was 3 hours deep, I had to speed up the process because people were becoming impatient... I would recommend using liquid latex remover and spirit gum remover to remove prosthetics. I decided to rough it, but not everyone may like the results of that option.

When I first walked into the garage (where the party was taking place), everyone stopped and stared at me. My family and the friends I had grown up with didn't know who I was. There were countless flashes of cameras all around and people became very excited. My dad, who has been making elaborate costumes for years was very impressed at the amount of work I put into it, and more importantly, the result. Everyone thought my transformation was crazy and hilarious because I looked almost completely different (Most people are used to seeing me with long hair and weren't expecting a bald and green alien character). Most of my close family members had a hard time having a conversation with me, because they thought it was too surreal or bizarre. That's how I know I succeeded.
I plan to take this costume to some college Halloween parties on Halloween night so that others can reminisce of their Dragon Ball Z days. I am really proud of how this costume turned out and I wish Halloween happened more than one month out of the year. I spent a lot of money and time on this project and as a college student I'm excited try to win back some of the money I spent. Most importantly, I'm excited to see how I stack up against the other great costumes submitted to this contest! Thank you for the opportunity!