Pac-Man and Crew Costume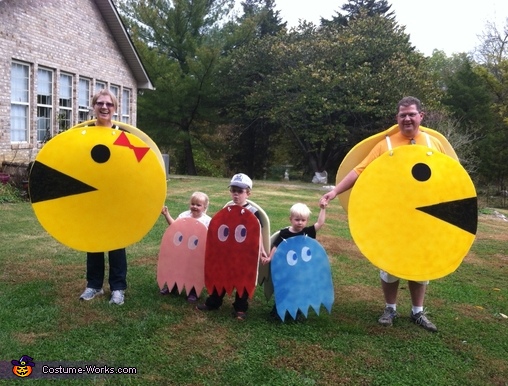 The finished costumes!
More views:
(click to enlarge)
A word from Shawn, the 'Pac-Man and Crew' costume creator:
Our big boy is really into Daddy's old video games these days, so Pac-Man is a family favorite.
We have done family costumes for 6 years now. This one got super-great raves and dropped lots of jaws at all the Halloween events we hit up this year!
We started with cutting out the Pac's n Ghosts from huge sheets of inch-thick upholstery foam. Then we droppped $40ish on a LOT of spray paint, then tied the costumes together with some elastic and a few washers.
The bonus of this plan is that the costumes take literally 5 seconds each to put on or take off, which is HUGELY helpful when dealing with fickle little 2-year olds!
Though we never entered any "official" contests, we were told several times this week that we "totally won Halloween!"