Oompa Loompa & Willy Wonka Costume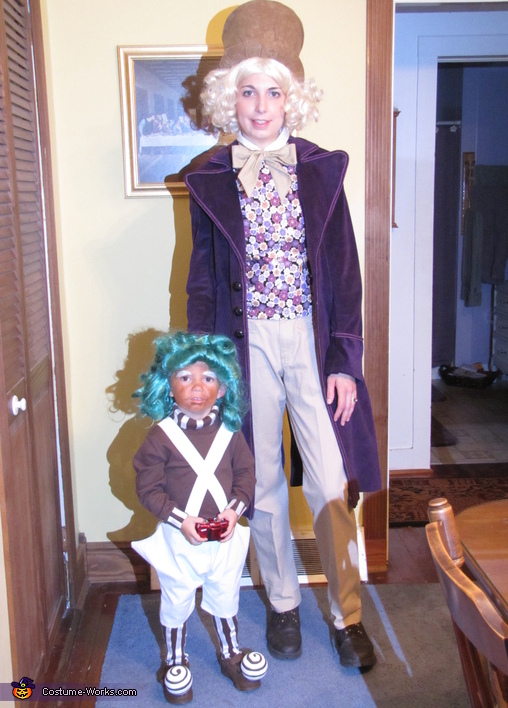 Willie Wonka & Oompa Loompa
More views:
(click to enlarge)
A word from Rita, the 'Oompa Loompa & Willy Wonka' costume creator:
How I created an Oompa Loompa (from the original Willie Wonka movie): I added white ribbon to the sleeves and neck of a brown turtleneck as stripes for the top. Then I added white ribbon to brown leotards as stripes. I created a pattern by trial and error, just drawing on paper I taped together to make the pattern for the white overall shorts. I painted sneakers brown and glued styrofoam balls to the toe of the sneakers which I had painted a spiral on with brown and white paint. The wig was purchased and the makeup was brown face makeup with white for the eyebrows. The little boy in the costume is my grandson KJ. :)
The Willie Wonka costume was a pair of khaki pants I purchased at a Good Will store. The vest, purple blazer and tie were sewn by me by combining different aspect from two different pattens, in order to make it look exactly like the real costume worn by Gene Wilder. The hat was purchased and then covered with fabric to get a better likeness to the original costume as well. The wig was purchased. The person wearing the costume is my daughter Jen.
The cost for both costumes was approximately $65 for the Oompa Loompa and $40 for the Willie Wonka.