Lobster Dinner Costume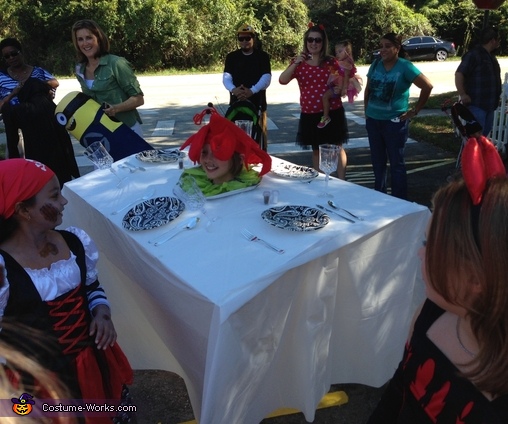 Dinner is served
More views:
(click to enlarge)
A word from Helen, the 'Lobster Dinner' costume creator:
My 9 year old daughter came up with this idea one evening when we were having dinner. She announced she was going to be a lobster dinner for Halloween and she knew exactly how to make it!


We used, cardboard display tri-fold, duct tape, hot glue, green tissue paper, a foil platter, plastic table cloth, plastic silverware and glasses, plastic salt and pepper shakers, paper plates, and a lobster hat.
We reinforced the cardboard underneath with duct tape and rulers. We cut a hole in the middle or the cardboard, then covered it with the table cloth which was glued to the table. We then cut an "X" shape in the table cloth over the hole. Glued the place settings and salt and pepper shakers.
Cut a hole in the platter and cover the sharp edges with duct tape. Then cover the platter with green tissue paper for lettuce. The whole costume only took an hour to make and my girls did nearly all of the work.
Put your head through the hole, add the platter and top with a lobster hat and voila,
Bon appetite, one lobster dinner!