Headless Hag Costume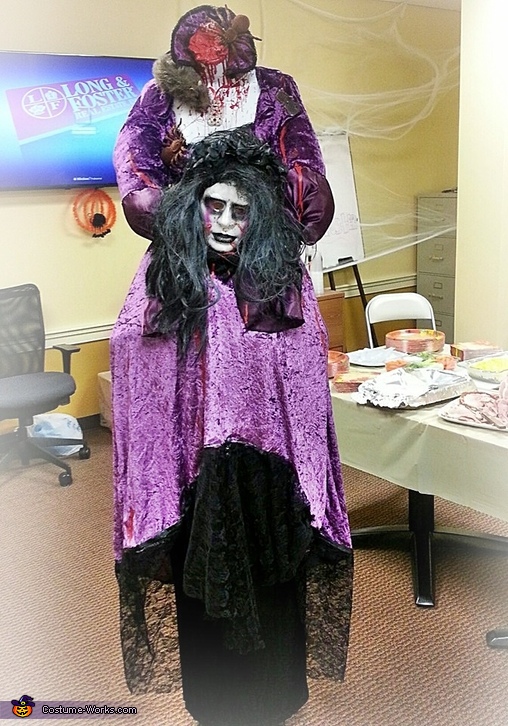 Headless Hag Costume
More views:
(click to enlarge)
A word from Lynda, the 'Headless Hag' costume creator:
I am wearing it (not bad for a 71 year old huh?) Wanted a headless costume but only found headless men so searched images and saw a Marie Antoinette idea..
Started with a dress makers torso mannequin. For realistic "severed neck" crumpled and glued paper towel to top of neck, added half of a Styrofoam packing peanut to rear to look like cervical spine, added small pieces of plastic straw to side and rear in front of the "spine" to look like arteries, then, using crimson acrylic paint, saturated neck area leaving some of the Styrofoam and straws white to more realistically look like bone and vessel. Glued necklace, rat and spiders to torso and dripped and splattered paint to look like oozing blood. Wired and duct taped torso into childs backpack. Hot glued and screwed dress to torso, stuffed arms of dress with batting. Then put backpack on my shoulders and determined where to cut hole in dress so that my head would be properly positioned. stuffed and attached gloves to the arms of the dress and stitched them at the bottom of the hole through which my head would appear so that it would look like the arms were holding my head. Voila.. a headless woman!