Harley Quinn Costume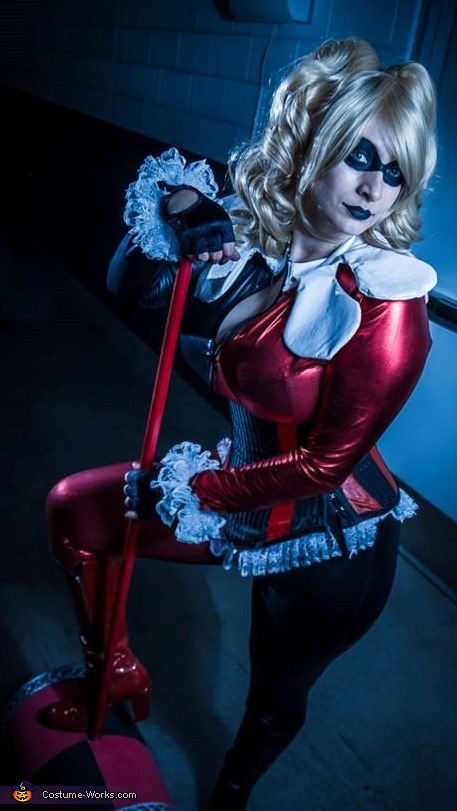 Harley Quinn Costume
More views:
(click to enlarge)
A word from Kayleah, the 'Harley Quinn' costume creator:
I made this costume for myself. I grew up on batman the animated series as kid i loved Harley quinn. I always wanted to do a costume of her.
I started with a body suit I bought online then I added a large joker style collar made of shinny pleather. I had a corset laying around from another costume I had done, but corset-story.com is the best place to get cheap steel boned corsets (allow a bit of time for shipping but soooooo worth the wait. I painted the corset to match and I added the Lacey fringe at the bottom with hot glue. Then painted an old pair of boots(the zipper pull was broken so I didn't feel bad about sacrificing them but you can pick up a pair of boots from goodwill). For the paint I needed something that was flexible and shinny like pleather. So I mixed acrylic paint and clear silicon. (the kind you use to seal bath tube and sinks). For the hammer I used a round concrete form from homedepot cut it to the right length, sealed the ends with cardboard and duck tape. The Handel was tricky cause I wanted to be able to remove the stick. I butched an old broom for the Handel and the part that the Handel threads into. And attached it inside the cylinder before I closed it up.Then used craft foam and hot glue to cover it. The wig I bought on amazon, when I search for wigs I always type in "cosplay wig" other wise you end up with the cheap wigs that tangle and look like crud half way threw the night. And cosplay wigs can usually be washed and shampooed to look like new. The whole costume probably took about 1 week and cost about $75 (if I had to purchase every thing instead using what I had it was about $150.