Frozen Family Costumes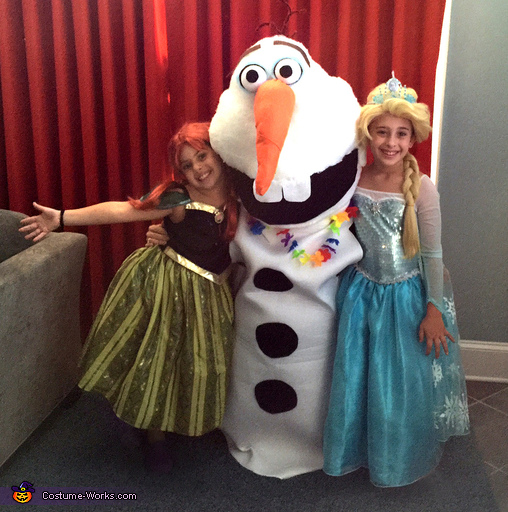 Frozen Family Costumes
More views:
(click to enlarge)
A word from Renee, the 'Frozen Family' costume creator:
Our 2014 Family Costume

We have daughters that are obsessed with the movie Frozen, they had to be Anna and Elsa. They asked us to be the King and Queen from the movie. But as everyone knows the King and Queen die at sea! So we looked to buy an Olaf costume and could not find any that we felt really captured the round, cuddly, funny Olaf. That began the challenge, HOW COULD WE CREATE AN OLAF COSTUME?

To create the costume, I used Foam core board to create the head structure. I bought batting from Michaels to shape and the head. I also used Styrofoam balls, felt and pipe cleaners. The hardest part was shaping and working the filling around the head. Once the head had a shape I worked on the proportion to the body. Once the sizing was correct, I had to figure out a way to make the head stay up on it's own and have a large enough opening to see from the mouth. I actually used a pencil wrapped in black felt to keep the mouth open! Pretty basic materials to make it work.

We got the best reactions with the Olaf costume when we were taking it around small children. They would be "star struck" and stare at the costume. I would then get on my knees and say "I am Olaf and I like warm hugs". Most would hug me and I would give them an Olaf sticker to keep. They loved it! I nearly was tackled by about 30 first graders, luckily I caught my balance as they surrounded me with hugs!

The costume was a lot of work- about 20 hours, I had to redo the head twice to get it to work. It was not the most comfortable costume to wear to see the reaction of the children that love the character Olaf. So many little faces lit up and that made it so worth it!