DIY Fortune Teller Costume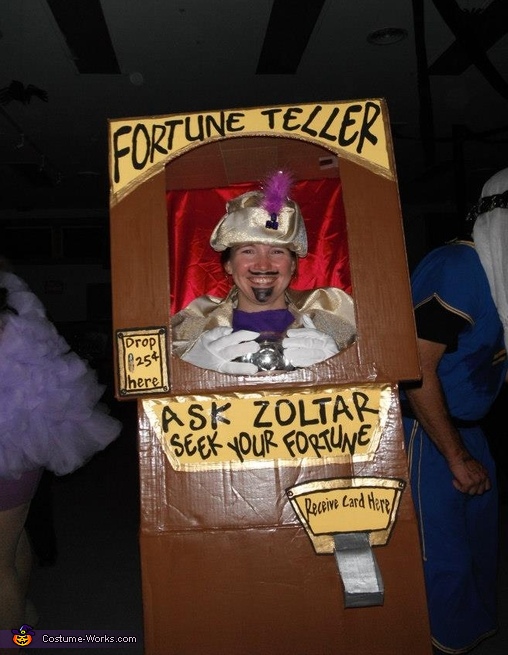 The finished costume
More views:
(click to enlarge)
A word from Katie, the 'Fortune Teller' costume creator:
I am wearing this costume at a dance. While watching the movie "Big" when Tom Hanks grows up from a wish on an amusement park machine I thought of this.
I used 2 cardboard boxes, packing tape, watered down glue and newspapers for patching over seems and tape. seatbelts for straps, an old at and cloth. A fake hand and pair of gloves.

I used the bigger box on top. I taped the boxes together and cut out the openings. I put straps in the back so I could wear it and walk around. After the box was taped up I used newspaper and watered down glue to go over any tape so the paint would stick. I actually had a section inside to hold cards because I also would drop fortunes out to people. It is all in the detail, lol. I cut the sleeves off an old sweater and sewed gold cloth around a hat. I put a red cloth hanging in the back to look like a curtain. I found a round container that I put glow sticks in to light up. I put a white glove on a fake hand and one on my real hand. This way I could drop the fortunes down and people wondered how I was able to do that. I painted the fake moustache and beard on my face. Pretty simple and inexpensive.