Ferris Wheel Costume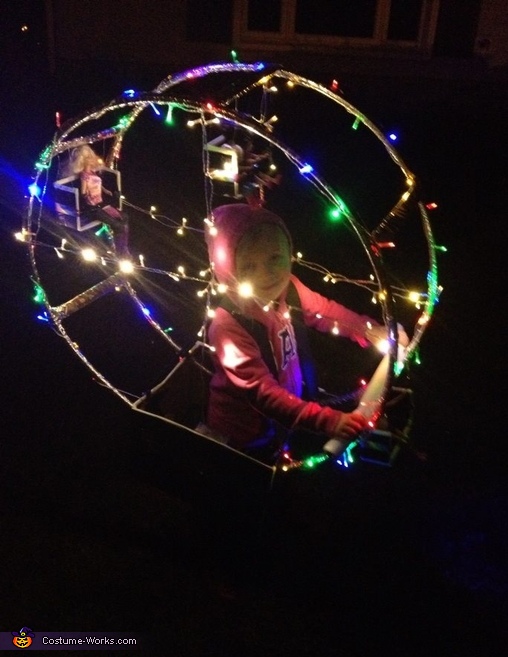 View 1
More views:
(click to enlarge)
A word from Teresa, the 'Ferris Wheel' costume creator:
My 4 year old daughter, Presley, manages to come up with something "different" every year to be. Mommy is just crazy enough to try and make her ideas come to life. At age 2, it was "broccoli" (her favorite veggie). At 3, a "light bulb". And this year? Well, this year she wanted to be... wait for it.... a FERRIS WHEEL!! I know... Right?!
So, how to make this come true for her? Simple. I used a cardboard box to construct her "seat" which is wrapped in duct tape and held on by suspenders. The wheel itself is made from two hula hoops also covered in duct tape. In fact the ONLY thing we used to hold this contraption together was... DUCT TAPE! We made the barbie seats out of cut shoe boxes and used florist wire for their handle bars. Presley's handle bar is a large foam glow stick that changes colors. The lights are battery powered. I included pictures of this ferris wheel outside in the dark and one picture of it in the construction process (before all the lights were on) so you can really see it.
All in all, she said it was perfect, she just wished it moved!! :)