Elvis Record Player Costume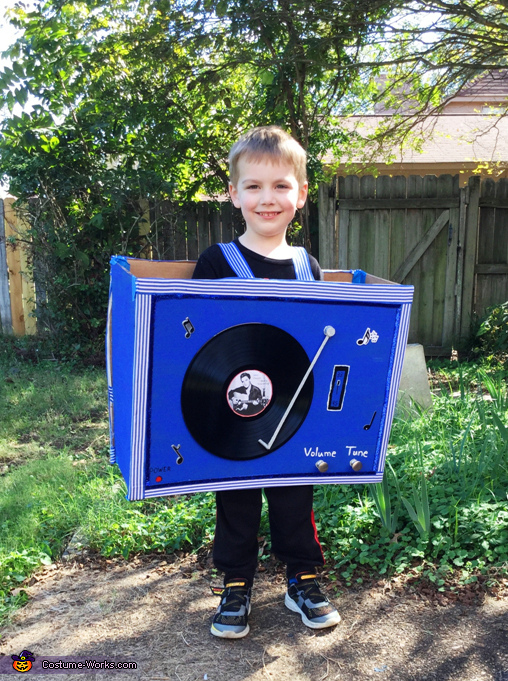 Elvis Record Player Costume
More views:
(click to enlarge)
A word from Rebekah, the 'Elvis Record Player' costume creator:
My son has always loved music! Since the age of 2, he has been fascinated with old record players from playing at his grandparents' house and listening to their old vinyls. For his 4th birthday, he begged us for a record player of his own and it was his favorite birthday present! He is now 5, and when I asked him what he wanted to be for Halloween, he said, "A blue record player with Elvis on it". My husband and I laughed because he didn't want to be a superhero or a TV character, but a record player! That is so him! So then I scoured the internet trying to figure out how to create this record player costume my son is envisioning and didn't come up with much so I had to get creative!
I first got a cardboard box that I had in our garage that would be the right size to fit my son. First I painted it blue, his requested color, with acrylic paint. We went to the thrift shop to buy an old vinyl record (we have plenty records that my son has collected, but none he would part with to be glued on a costume! haha). We then printed off a label on the computer to make it look like an Elvis record, his favorite. To make the arm of the record player, we got a wooden dowel, cut it to the shape, and a little metal cap we had from a glitter container, and painted them both white and sprinkled them with silver glitter to give it some sparkle! We attached both the record and the arm with double sided mounting tape and super glue. For the knobs, we purchased cheap kitchen cabinet knobs from the hardware store and attached them with mounting tape as well. We painted a few details on the front, such as the record speed lever (33/45), the power light, and the Volume and Tune labels for the knobs. We then added some music note stickers and hot glued the blue striped ribbon all around the edges to give it a trim from the craft store. For the back of the costume, my son wanted several record album covers to be displayed. He chose some from the internet that he liked, we sized them and printed them out and glued them on with regular craft glue. We then added more musical note stickers. To add a touch more sparkle, we bought a sheet of glitter fabric from the craft store and cut into lines to form a frame around the album covers. We used the same blue striped ribbon to also trim the sides of the back of the box. When out in the sunlight, the glitter from the arm of the record player front, and the glitter from the album frames shines so beautifully! I then measured some additional blue striped ribbon and fit it to my son's shoulders so it would hang properly, which I then glued into place when I got the correct placement. Overall, I had a bunch of supplies on hand and this only cost me about $10-$15 to make.

My son was EXTREMELY proud of his costume when we went to our local trunk-or-treat event. The reactions we so positive and it made my son so happy for people to comment on how cool his costume was. Most everyone that spoke to us said they have never seen a record player costume before. Lots of people were surprised that a 5 year old wanted to dress up as a record player in the first place and was shocked he knew everything about them and proceeds to inform them about his favorite 45s and 33 records. Most younger kids who saw his costume were dazzled by the sparkle, but honestly I don't think they knew what it was, some younger ones thought it was a big black CD on there! They knew it was something musical, that's for sure! All that mattered though, was that our son was happy about his costume and strutted around that trunk-or-treat like he was "The King" Elvis himself.

Honestly, it was all my son's idea. He had input in this entire process and he walked through the aisles of the craft store with me trying to figure out how we were going to pull this off. He is one unique little boy and I really enjoyed creating it for him. When we googled for a "record player costume" to get some ideas, there really wasn't much of anything out there. We know for sure we will not see another boy dressed as an Elvis record player anywhere we go. I was happy to create such an original costume for an original little boy! We love Halloween!