Effie Trinket and Seneca Crane Costume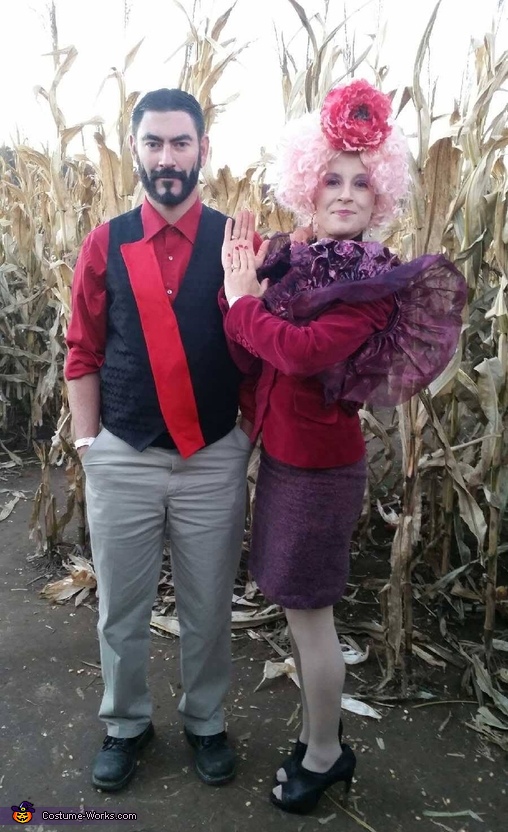 Effie Trinket and Seneca Crane
More views:
(click to enlarge)
A word from Sara, the 'Effie Trinket and Seneca Crane' costume creator:
It started with a beard. Or rather, when my husband John decided to grow a beard. A beard? Really? Did he understand how this would limit our options to create an epic Halloween costume this year? But wait! Mockingjay is hitting theaters in a few weeks, so why not play homage to the movie that started it all (and John's beard) with our very own take on The Hunger Games characters Effie Trinket and Seneca Crane. Has the costume been done before? Sure. Did we think we could take it up a notch. You bet! Did we think we could do it with more than 75% of the costume assembled from items that were either in our closet or purchased at Goodwill? You better believe it!

For the Seneca Crane costume we used: 1 pair of khaki pants and 1 pair of black shoes from John's closet, 1 red dress shirt and 1 black vest from Goodwill (we bought an additional red shirt from Goodwill to create the red band across the front of Seneca's vest, which we attached with a few quick stitches and fabric glue), black face make up helped add in the details to the beard (however, John took one for the team and shaved most of the shape of Seneca's beard into his own beard), black hair spray got the color of John's usually sandy brown hair and beard just right.

For Effie Trinket: 1 hot pink blazer/jacket and 1 black and white tweed wool skirt from Goodwill were dyed the right hue using Rit dye in "wine" and "fuchsia". 1 pair of black high heeled shoes from Goodwill and 1 pair of off-white nylons completed the look. But how, oh, how would we construct those puffy sleeves on the jacket that make Effie's look so Capitol Couture? By taking one old turquoise tutu my mom had saved from a childhood dance recital, cutting it in half and creating two sleeves that were then spray painted with fuchsia and burgundy spray paint purchased at the hardware store. Attach painted sleeve to the shoulder and mold the now stiffened tutu into place. Instant puffy sleeves. But no Effie costume is complete without the right makeup. This involved Cover girl foundation in ivory, pink and purple eye shadow/liner, pink/purple lipsticks, pink blush, a pair of false eyelashes, a blonde wig "dyed" with pink hairspray to match the outfit, and a single artificial peony from a craft store, cut off the stem and super glued glued into place. Top it off with a pair of pink dangling earrings from my jewelry box and a flower choker made from a 29 cent piece of black felt cut into two strips to fit around my neck, 2 pieces of Velcro to keep it attached, and various fabric flower hair barrettes clipped onto the black felt. Voila! I give you Effie Trinket's look from The Reaping.

The best part, the total cost for both costumes was under $50 and we threw it together in less than a week!!!!


But what really told us our costumes were a success was a stop at a corn maze/pumpkin farm where we met up with some family members before the costume party. Only a few minutes after we arrived and middle school and high school students (and even a few adults) were stopping us to ask if they could get their photos taken with us. As we walked through the corn maze, we could hear the whispers from those we passed: "Oh, my gosh, Hungers Games!" "Look, look! It's Effie Trinket and the Game Master," "Oh my gosh. Your costumes are awesome." At one point, a woman said, "I didn't know the Capitol was going to be here," to which I looked at her map of the corn maze, then back up at her and said in my best Effie voice, "May the odds be ever in your favor."

What started as a "make do" costume to work around my husband's beard turned out to be one of the most fun costumes we've made yet. We certainly hope it puts the "odds in our favor" for the Halloween Costume Contest.