Despicable Me Family Costume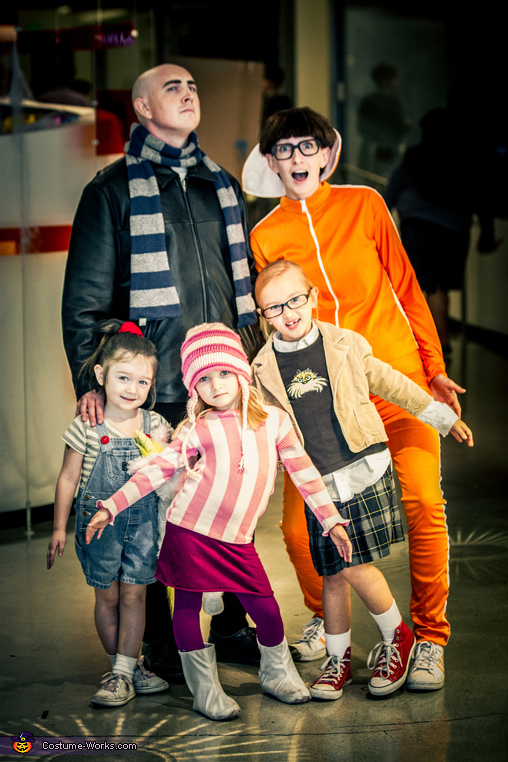 Best Despicable Me Family Costume
More views:
(click to enlarge)
A word from Annie, the 'Despicable Me Family' costume creator:
My oldest daughter suggested that we be the characters from the movie Despicable Me. Since I had three daughters of the right ages it seemed perfect. My husband even said he would shave his head if our costumes looked legit. :) I must have gone to 5 different thrift stores trying to find pieces of clothing to match the clothes from the movie. After making the 3 girls costumes and realizing they looked good, I knew I had to make my Vector costume look just as good too. I ended up buying fabric and made it myself. I'm really happy with how it turned, it was a fun Halloween!
Gru Costume: Scarf and pants are from a thrift store. I took the pants and altered them to be tight like in the movie. He already had the shoes and jacket.
Vector Costume: I bought orange fabric and white ribbon to make the pants and jacket. The shoes were from a thrift store and I painted the orange strips on them. The wig was a male 60s retro wig that I gave a haircut to. The glasses were my husbands from bootcamp. I popped out the lens and painted them black. The neck piece is a flexible cutting board and a wire hanger inside the fabric.
Margo Costume: Her glasses are from the dollar store. Skirt, jacket, black t-shirt and shoes are from a thrift store. I borrowed the white button down shirt. We found out that the picture on her shirt in the movie was from the old Dr. Suess cartoon "The Lorax". We printed out the image and ironed it onto her shirt.
Edith Costume: I found a XXL pink stripped sweater from a thrift store. I cut off the sleeves and flipped the torso so the strips became vertical instead of horizontal. I altered it to fit her and sewed it back together. The skirt is also from a thrift store. I bought the tights from Target. Her boots are rain boots covered in white fabric. My co-worker crocheted her hat.
Agnes Costume: Her overalls and shirt are from a thrift shirt. The shirt was originally a cardigan type sweater with buttons down the front. I flipped it around and sewed up the back. I sewed the sleeves to make them look like the sleeves from a t-shirt. I took the buckles off the overalls and sewed red buttons in their place. The scrunchy is red fabric and elastic. She already had the shoes.