Daisy and Donald Costume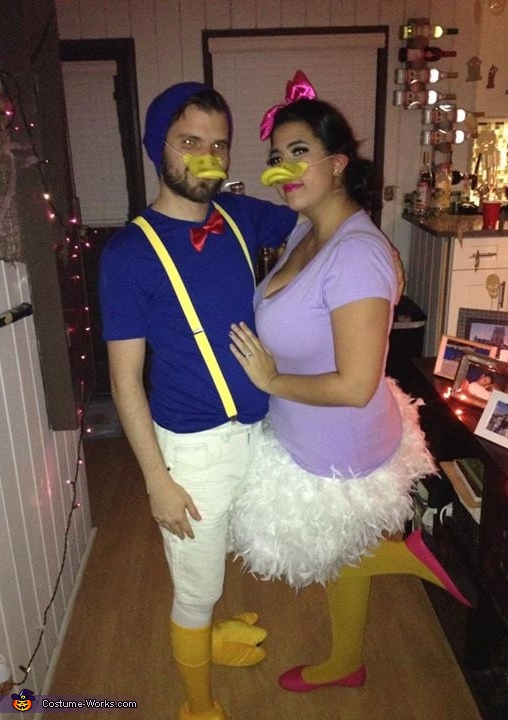 At the party
More views:
(click to enlarge)
A word from Jossie, the 'Daisy and Donald' costume creator:
My husband and I always do a cartoon couples costume for Halloween. This was our costume from 2013 another interpretation of a Disney couple. I decided on Donald and Daisy Duck because I figured I could dress him in regular clothing and just add Donald like accessories.

Our duck bills, his duck feet, suspenders, my bracelet and both our bows (my headband and his tie) were purchased from Amazon. His clothing: blue t-shirt, skull cap and white jean shorts were purchased from Forever 21 Men.

My shirt and white jean skirt (under the feathers) were from Old Navy as were my pink ballet flats. Both my yellow tights and his white knee highs and yellow baseball socks were purchased locally. The feathers on my skirt were actually white feather boa's purchased at a Halloween costume store. I hand sewed 5 of them on to the jean skirt underneath using a tapestry needle and embroidery floss.

The finishing touch to my costume was gigantic fake eyelashes purchased at CVS. The costumes were a HUGE hit at the party we went to, with the small hiccup that I literally dropped feathers everywhere I went. The next morning the party hosts called to say it looked like someone slaughtered a chicken in their house.

Despite that the costumes were incredibly comfortable and practically every piece was reusable.
http://semiliteratebibliophile.blogspot.com/