Cindy Lou Who Costume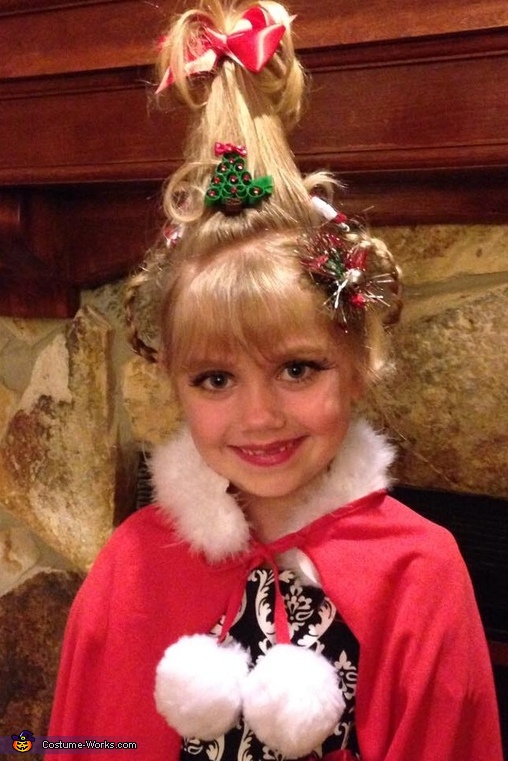 Cindy Lou Who
More views:
(click to enlarge)
A word from Laura, the 'Cindy Lou Who' costume creator:
This is my beautiful 6 year old daughter. People have been telling me that she looks like Cindy Lou Who since the day she was born, and so I had toyed with the idea on and off for a long time. 2.5 years ago she was diagnosed with Trichotillomania and lost most of her hair. She's made a lot of progress in the past 2.5 years and now that her hair is getting longer, we wanted a Halloween costume that featured her hair prominently. I googled "who hair" and found picture showing a water bottle being used in the hair of an adult. I emptied a small 8oz size and tried it on her head - it worked! I used wire in her braids to keep them in a circular shape. The dress is from a thrift store, and the cape is a cut up version of a devil cape I wore for a costume 25 years ago that I found in my parent's basement. I cut it to size, and added fur and pom poms. The hair bows were made by a local lady who makes and sells bows. I put blush on her nose to make it pink so she would look cold, and used eyeliner and mascara to create the look of Who lashes.
The entire costume cost me $40, $20 of which was the hair bows. If I knew how to make them myself, the costume would have been a lot cheaper.