Calvin and Hobbes Costume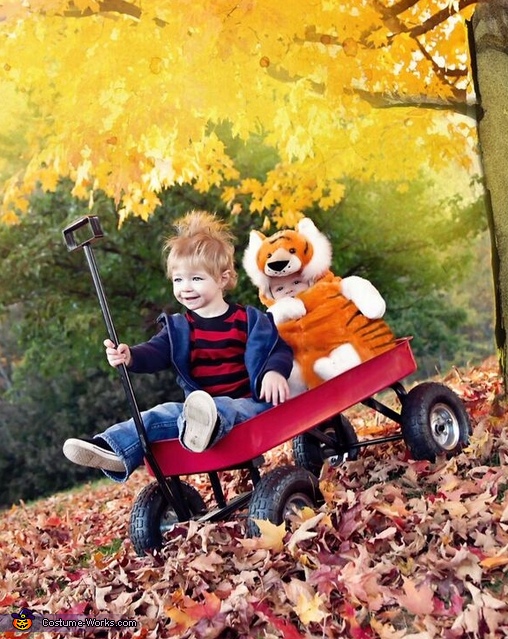 Calvin and Hobbes
More views:
(click to enlarge)
A word from Audrey, the 'Calvin and Hobbes' costume creator:
"Look! A trickle of water running through some dirt! I'd say our afternoon just got booked solid!"

My 20 month old Caden is Calvin and Hobbes is my 3 month old Greyson. We had a lot of fun planning this costume and taking the picture! Our family loves to read our sons the Calvin as Hobbes comic strips and I loved them as a child growing up. Caden's costume was all things he actually already had before this! The sweatshirt is Oshkosh, jeans are baby gap and the shirt and shoes are Walmart- with a little bit of hair spray his costume was complete. Greyson's tiger costume I found at a local Halloween store. I bought a few sizes up so we could fit the costume around his bumbo seat which helped him actually "sit up". My friend Brooke took this picture in her front yard- with the beautiful fall foliage we have here in New Hampshire this picture couldn't be more perfect :) ! Enjoy!