Boo Monsters Inc Costume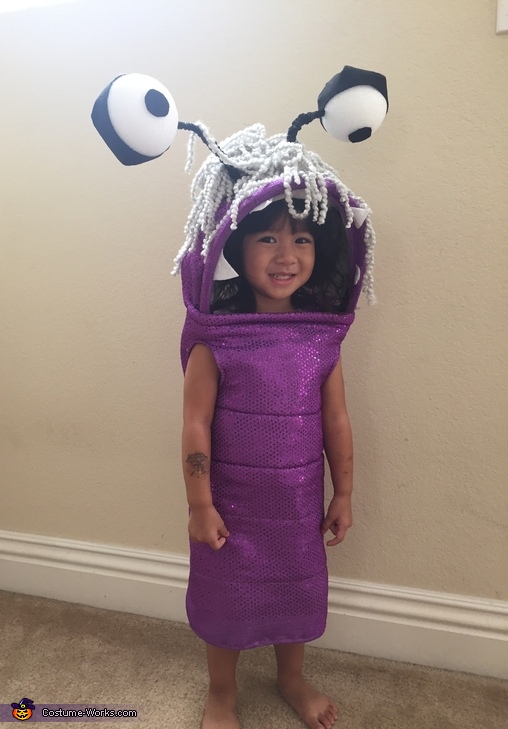 Boo
More views:
(click to enlarge)
A word from Jenny, the 'Boo Monsters Inc' costume creator:
This year my toddler was old enough to understand the concept of dressing up for Halloween and she was super excited. One of her favorite movies at the time is Monsters Inc and I thought it would be fun if she dressed up as Boo, since she kinda looks like her with her bangs recently trimmed. I searched high and low and couldn't find the costume anywhere so I decided to try my hand at making the costume myself!

For the materials, I used
-1 yard of a sparkly purple fabric
-1 yard of a light gray flannel for the interior lining
-1 yard of thick flannel to lay in between the lining and purple fabric ( could have used batting, but I was trying to keep the costs low and I already had the thick flannel)
-Wire hangers for the eyes
-Black pipe cleaner to wrap around the wire since it was white
-Handle from an old Easter basket
-grey yarn for the hair

Making the body was a lot easier than I thought it would be. The hardest part was the hood and keeping the eyes from completely falling over. It took a few tries but I was finally able to get the eyes to stay upright and the hood to stay wide open by using the handle of the Easter basket on the brim of the hood.

This costume was so much fun to make. I actually really surprised myself by finishing it in one day. I mean, it did take all day but still. Haha. I had to take a million breaks since I have a 2 month old and a 2 year old. My little girl was trying to help the entire time. It was sweet and amazing to see how excited she was but it took longer with her help since I kept having to clean up after her.