Black Swan Costume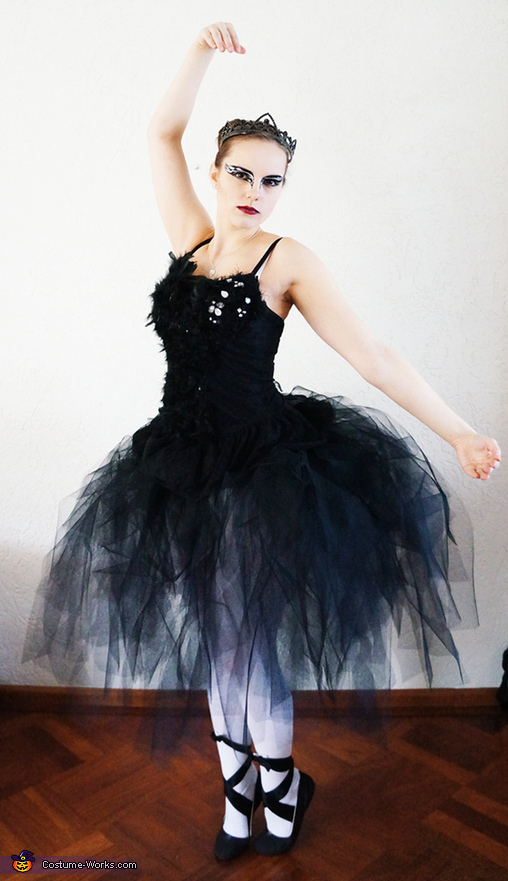 Black Swan
More views:
(click to enlarge)
A word from Carlijn, the 'Black Swan' costume creator:
I am wearing the costume I made myself. The costume is made without sewing, so it's an easy project to make. One of the images is an explanation on how to make this costume, but it is in Dutch. For an English tutorial please continue reading:
Buy:
a black corset or a black strapless top
10 meters of black tulle
Silver diamond studs
black feathers
a white legging
fabric glue
black paint
a plastic crown
black ribbon (about 1 meters long)
black elastics (about 1,5 meters long)
Start:
Glue the feathers to the top, layer by layer. Leave one of the busts empty.
Fill up the empty bust with larger feather and put them in a half circle shape.
Glue the diamond studs on to the top in an arrangement you like.
Cut the tulle in 15 cm strips.
Stretch the elastic between two stairs (or something else could do the job).
Knot the tulle strips on to the elastic. Continue until every piece of elastic is used.
Knot the ends of the elastics together at your hip width.
Spray paint the crown with black paint.
And you are finished!
You can use the black ribbon to wrap around your legs.
http://www.madebycarlijn.nl