Beetlejuice Costume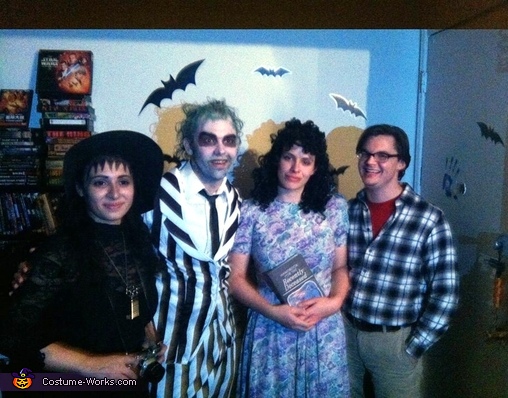 Beetlejuice, Beetlejuice, Beetlejuice!
More views:
(click to enlarge)
A word from Joan, the 'Beetlejuice' costume creator:
I am dressed up as Lydia Deetz. I just bought an old black straw hat and luckily I owned everything else. I just had a lace black top and wore a long black dress on top of it with a skeleton key as a necklace and old camera. The make up was done to look pale and gothy. My boyfriend Bailey went as Beetlejuice. We bought his stripped suit and he used his own tie and white button shirt. His hair is originally black we dyed it using color hair spray (green, yellow, and white). We used Halloween make up to make his face pale. We used moss from Michael's craft store for the mold around his face. Stephanie went as Barbara Maitland, all she needed was a floral dress form the thrift store and she bought a curly haired wig. She also made a copy of the Handbook of the recently deceased. Lastly our friend Adam went as Adam Maitland, funny enough he just took cloths from his own closet and he already wears glasses.

We got the idea because we thought Adam looked like Adam Maitland. So we made a pact to do this cast costume but RIGHT! We got great compliments and lots of people wanting to take our pictures.