Beetlejuice and Lydia Costumes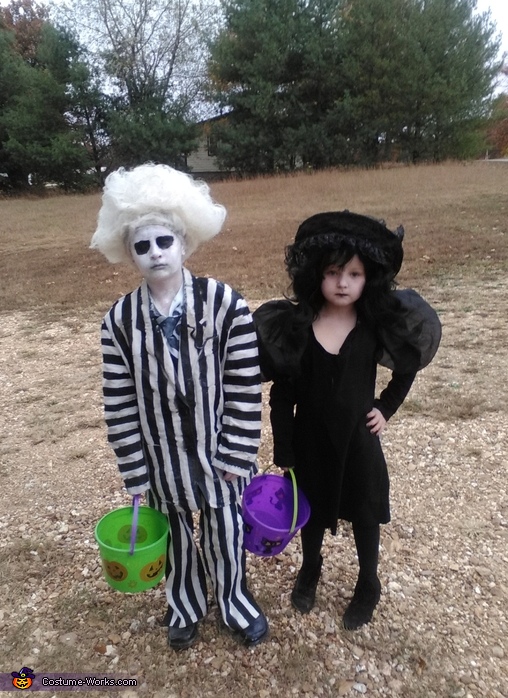 Finished product
More views:
(click to enlarge)
A word from Tia, the 'Beetlejuice and Lydia' costume creator:
Ok so my son watched Beetlejuice for the first time last year and decided he had to be him for Halloween. My daughter decided she should be Lydia to match. I looked online for costumes bit they were either to expensive or cheap looking. So I DIYed them.
Lydia was pretty easy. I got all the supplies for her costume at a resale shop. The dress was a bit big so I used safety pins on the back to tighten it up a bit. The hat was a basic straw hat which I spray painted black. The lace was a white table runner which I cut and also spray painted. Then glued them together. I purchased her black wig at Wal-Mart and her boota from the resale shop. In total it coated $6 to make this costume! I used black eye shadow and black lip stick on her face!
Beetlejuice was a little bit harder to make. First I found white pants and a jacket at a resale shop. The jacket was more beige than white so I bleached it a couple times to get the white I wanted. Next I took masking tape and made the stripes. The pants were easy just basic stripes. The jacket however was a little more tricky because the arm stripes are vertical not horizontal. It took me a total of 8 hours of taping to get them all right. Next I spray painted all of the pants and jacket black. I used 3 cans of black spray paint for both of them. If you ever need to do this my tip is to not get the paint to close. There where spots were it bleed under the tape. I touched these spots up with a white paint marker. The shoes and tie where also a resale shop find.
The next step was the Beetlejuice hair. It started out as a bleach blonde rock star wig from Walmart. I cut it to the lengthy I needed. I then used headliner apart adhesive to shape it the way I wanted ( I pulled it all up and started at the bottom spraying). The adhesive it very messy and leaves little web like strands when sprayed. This worked very well for this project. I spray painted the entire thing white. It doesn't look exactly like Beetlejuice hair bit I still liked the way it turned out.
Lastly I used white and black Halloween make up on his face. I also added a bit of green on and around the wig by his forehead. We also put green his hands. I found a kit at the dollar tree. Over all it coated $11 to make this costume.
They had so much fun and everyone loved the costumes!