King James Baby Costume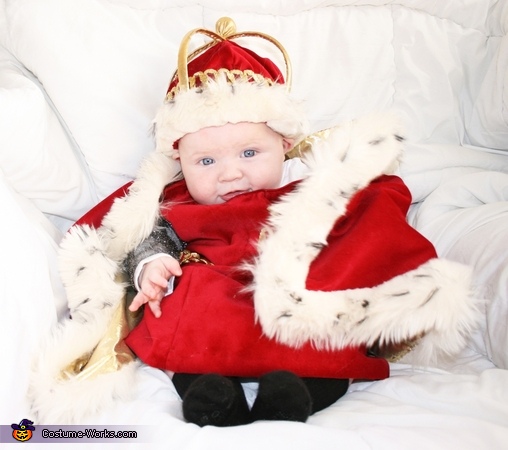 Baby King James
More views:
(click to enlarge)
A word from Kendra, the 'Baby King James' costume creator:
This was for my son's first Halloween. His uncle started calling him King James and the name kind of stuck. This was the outfit I made for him.

I bought red velvet material, mesh sparkly material for the "chain link", shiny gold material and white fur for the trim. I also bought boning for the crown, elastic and gold fabric paint.

For the tunic park of the costume I used one of his sleep sacks as a guide for cutting and sewing the tunic the correct size. I then sewed the mesh material on the arms to create a "chain link" look. For the emblem on the front of the tunic, I found an image I liked and created a freezer paper stencil using a tutorial I found online and gold fabric paint.

The crown was made from a lot of trial and error. I sewed the main part with the red velvet and then added the pieces of boning criss crossed on the top and covered with gold material, the little ball on the top is a tiny ball of yarn covered in gold material. The hat is trimed with white fur and I used a sharpie to make the black marks to make it look Royal.

For the cape, I used a pattern/tutorial I found online. It is basically 3/4 of a circle with a circle cut in the middle. I used the red velvet and lined it with gold material and trimmed it with the white fur, again using the black sharpie to make little marks in it.

This was an intense costume to make, but was well worth it! Our family will always remember his first Halloween!