Audrey II from Little Shop of Horrors Costume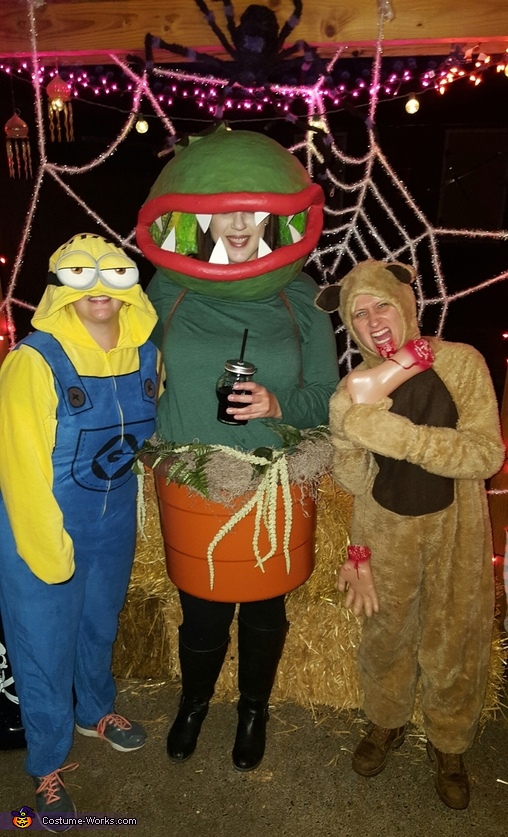 Wear it to every Halloween outing possible!
More views:
(click to enlarge)
A word from Jenny, the 'Audrey II from Little Shop of Horrors' costume creator:
Audrey II is the man-eating plant from the 80's movie Little Shop of Horrors. I was inspired to make this costume because it's one of my favorite 80's movies, and the musical is currently playing in my city, Portland, OR.

The mask was made of paper mache. I used a large punching-bag balloon for the base. After 4 layers of paper mache dried, I cut a hole for my head, and cut the mouth opening. I added foam pipe insulation around the mouth opening to form lips. After that was added, I layered one more layer of paper mache on top of the lips and head. I then painted the mask, and cut slits in the foam lips to insert the teeth (cut from white posterboard). I then sprayed the entire mask with a clear coat/sealant, and hot glued some fake leaves to the back and sides. To make the plant pot, I cut the bottom off a solid plastic laundry basket, tied on some felt straps so I could wear it like suspenders, which held the pot around my waist. The laundry basket was spray painted terra cotta color. I hot glued some brown felt around the rim, added some fake moss and plants, and the pot was finished! All I needed to do was wear a long-sleeved green shirt, don the mask and pot, and I became Audrey II. This was a really fun costume to make, and I got a lot of compliments on it!