Katy Perry Costume Ideas
A celebrity themed Halloween costume is always a popular choice; not only is an A-lister's signature style instantly recognizable and fun to recreate, but it allows you to display your love for your favourite star. Many of our competition entrants have embraced this idea and one celebrity who's getting a whole lot of love is Katy Perry. Her distinctive creative flair when it comes to outfit choices means that your options for Katy Perry Halloween costumes are practically limitless.
The singer's music videos are an ideal starting point to search for inspiration. We've had a few readers showing off creations inspired by the music video for her single California Gurls; that video alone is rich with fun, sexy, candy themed Katy Perry costume ideas. From blue wigs to cupcake bras, costume retailers have jumped on this idea too but don't think you have to buy off the rack to recreate her looks.
Samantha, who entered our 2011 costume competition, proves this with her Katy Perry California Gurls costume; everything in her outfit is either made from scratch or customised basic items. She admits that the whole thing took hours to make, but the effort surely paid off.

While we're admiring some more elaborate ideas, check out Jade Ohara's Katy Perry Christmas Tree costume. Based on an outfit she wore for a 2008 show at Jingle Ball, this amazing costume is completely homemade and absolutely stunning. From the star on her head to the presents at her feet, she made sure not to miss a single detail. Another great factor to this outfit is that you have the option to recycle it during the Christmas party season!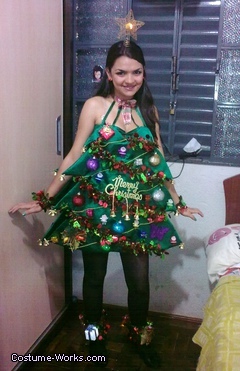 Dedicated DIY costume makers will certainly be bursting with exciting ideas by now, but what if you don't have the time to dedicate to an elaborate creation? Worry not; you don't have to find another theme. Browsing through her other music videos as well as live performances and public appearances will reveal a whole host of possible outfits, many that are less complicated than the ideas mentioned above, and some that are much more easily attainable. A brightly coloured wig is the perfect addition, if you can get your hands on one. Alternatively, her jet black hair and straight cut fringe are another instantly recognisable trademark look. They're also extremely easy to copy, particularly if that's you're current hair style to begin with!
If you were left broken hearted by the divorce of Katy Perry and Russell Brand, Halloween is the perfect opportunity to resurrect that romance. Both famous for their very unique looks, Katy Perry and Russell Brand costumes are perfect for couples. Ladies can embrace any of the ideas we've looked at here and all the guys need is a buttoned down shirt and a pair of skinny jeans. Throw in some facial hair, generous amounts of kohl eyeliner and as much backcombing as you can handle and you're ready to go. Some of you have already entered your interpretation of the couple into this year's contest; Noelle and her fiancé Daniel entered their superb Katy Perry and Russell Brand costumes, which they seem to have extended to personalities as well!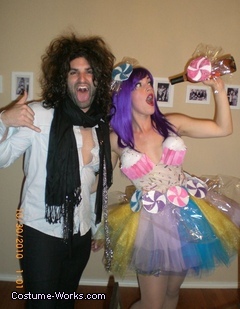 Noelle's outfit is another great example of a homemade candy theme done just right. Nikki's take on a Katy Perry and Russell Brand couple costume is also wonderful and beautifully simple. Her costume required just a white strapless dress, customised with spray painted foam balls to create the candy dots dress, and, of course, the bright blue wig. Her boyfriend's costume was even easier, created purely from his own wardrobe, a teased wig and a little bit of make up.
If you're going trick or treating as a family, this theme is also great for you, as Jaimi proves with her Katy Perry family costumes.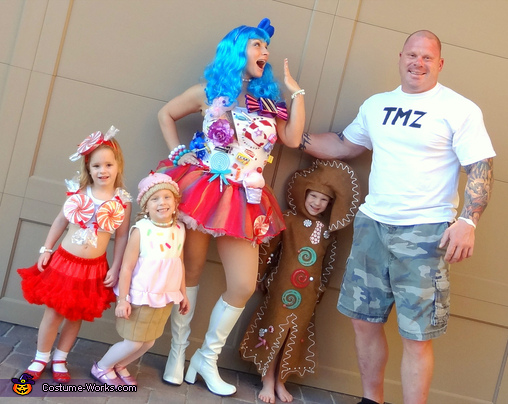 Jaimi herself dressed up as the lady in question, again taking inspiration from the California Gurls video. Her son and two daughters make excellent candy treats as cupcake girls and gingerbread men. Her husband adds the finishing touches as their own personal paparazzo, following the group around all night taking pictures.
As you can see from the ideas above and from the wonderful creations that have already been entered to our annual competitions, your choices are plentiful and guaranteed to be a whole lot of fun thanks to this singer's creative choices and individuality. So enjoy creating your Katy Perry costume and really let your wild side out! Remember to take plenty of pictures and once you've recovered from the party, don't forget to enter our 2020 Halloween Costume Contest, so you can be in for the chance of winning a cash prize for all your efforts.

Back to Costume Ideas & Articles