Homemade Bumble Bee Transformer Costume
Created by Donna, and these are her words:

Here are some pictures of my sons costume from last year (2009) Its only July but we are already planning this years costume. LOL Eric was 6 y.o. last year. He asked me if he could be a transformer, bumblebee to be exact. I had not seen the movie at this point. But I knew I wanted the costume to "transform".
It is made out of cardboard boxes, paper plates, colored duct tape, lots of spray paint, 2 press lights for closets (10.00 a pair) His headlights really worked!! Kids as well as adults loved the costume. We hope you like it as well.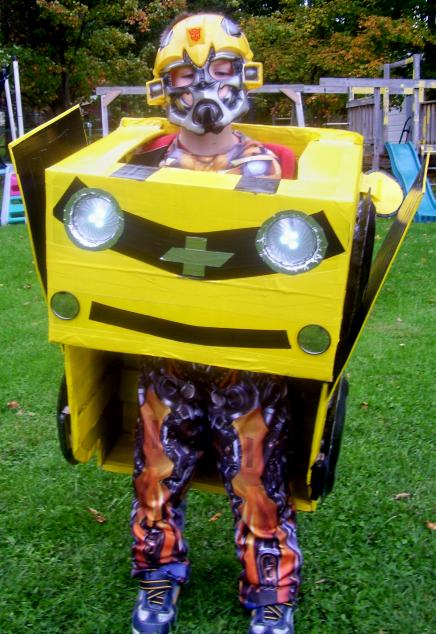 The costume was divided into 3 parts the "hood" (front end) was one box, the body of the car another and the roof was yet another box. the hood was attached with 2 small door hinges that allowed the car to fold so he could transform. I carried a boom box and played the transformer theme whenever he transformed.
~~~~~~~~~~~~~~~~~~~~
Raising Autism awareness one Email at a time. 1 in 110 children have some form of Autism. My son is one. There is no cure for Autism. Support Autism research
~~~~~~~~~~~~~~~~~~~~

View other Homemade Transformer Costumes:
If you don't have the time or the inclination to MAKE a costume this year. If you've thought about it, but your heart, for whatever reason, JUST isn't in it...You can probably purchase a costume of the type you were planning to make...and maybe even for about the same as you might spend on the materials to MAKE a costume. On the other hand, you may look around and spot a Costume that changes your Costume plans completely Ü.

Back to Homemade Halloween Costumes Main Page