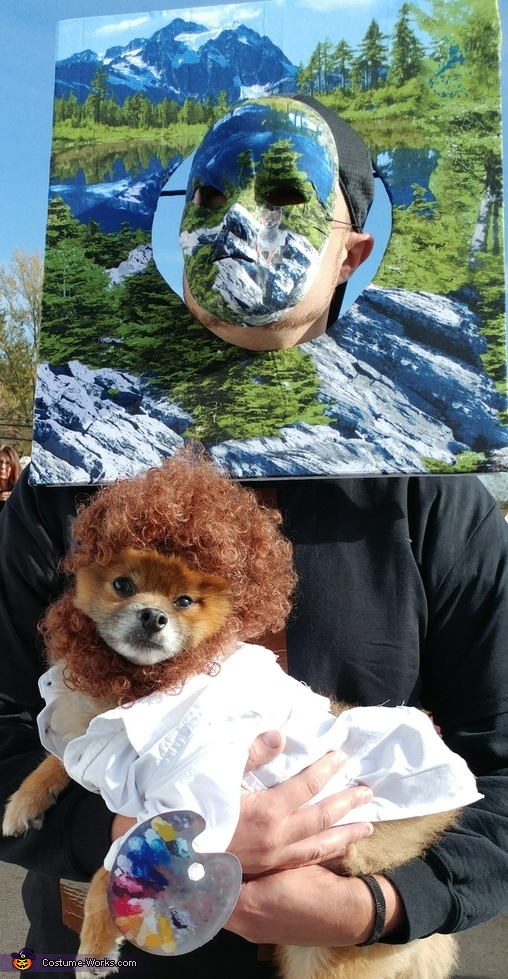 The finish line! Bob's dog, Ross!
More views:
(click to enlarge)
A word from Harmony, the 'Bob's dog, Ross' costume creator:
Stevie Bear, my 5 year old special needs rescue dog. This year I wanted to do something totally different and the idea of Bob Ross popped in my head. I knew I had to make it dog appropriate and so Bob's dog, Ross was created. The costume was make from foam board, two prices, fabric with a scenic pattern, a child's shirt with a collar, doll hair and some creativity printing. I cut out a hole in the center of the foam board and attached the fabric then glued the second piece of foam board to the back so no one would see the fabric. From there I then cut the fabric from the hole in the form board so I would have fabric to use to attach to the mask. With the mask it was a bit harder, I had to wet the fabric and then added glue to the center starting at the nose of the mask. I had to use a blowdryer to help the drying process along so I could continue forming the fabric onto the mask. Once that was completed it was time for the shirt and wig. I cut the back of the shirt in a straight line and added Velcro for closure. This would allow easy one and easy off for our 4 legged friends. I created a painting pallet online and prited it, attaching the print to remaining form board and attached it to one sleeve of the shirt using hot glue and attached a paint brush to the other sleeve. The hardest part was the wig and beard. I used an old dog hat so it was already formed to the shape of his head then some fabric I had around to use as a base for the beard. I pulled out pieces of the doll hair and tied a not in one end to keep the hair together and then began glueing one by one. Once all the fabric and the hat were covered I then fluffed it up to give it the true Bob Ross effect. Total cost for everything was about $25 with the most expensice thing being the child's shirt which was $12.