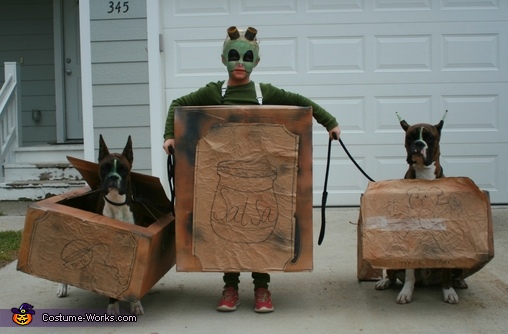 Salsa BoxTroll and her Boxer Trolls Yo Yo an Tybee Bear
More views:
(click to enlarge)
A word from Sarah, the 'Boxtrolls' costume creator:
My 6 yr old daughter MacKenzie is "Salsa" the Boxtroll and her two Boxer Trolls are yo yo and tybee bear.
She came up with the idea and helped me construction of these costumes.
Cardboard boxes, sheet stays, toilet paper roll, jute string, paracord, Spray paint, packing paper , shipping tape and a sharpie. Overall the cost was low but the creativity as high.

Finished it off with basic cream halloween makeup and the sky was the limit!

My daughter LOVED this costume, one dog tolerated it and the smaller of the two LOVES her box, both she and my daughter "pop in and out" of the boxes together. Good times with family!
www.vintageboxers.com