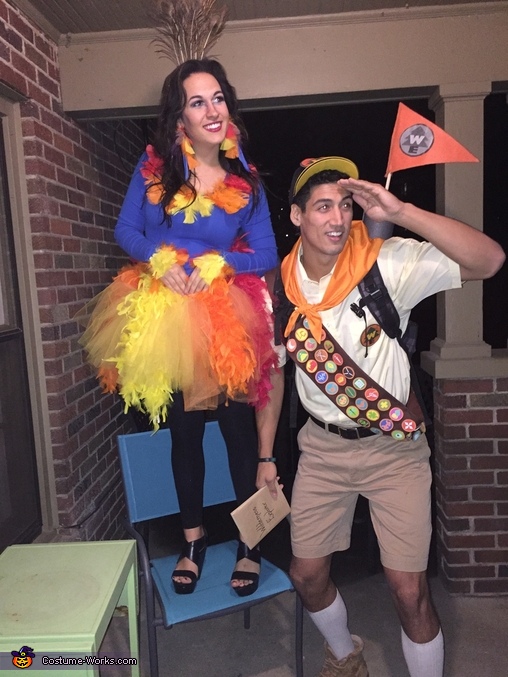 I found the Snipe!!
More views:
(click to enlarge)
A word from Edwin, the 'Russell & Kevin from Disney's Up' costume creator:
Edwin is dressed as the wilderness explorer, "Tribe 54, Sweat Lodge 12" and Katie is dressed as Kevin "The Snipe".

For Russell: The shirt came from a thrift store. The American flag badge on his sleeve was bought from Walmart and was sewed on. The Wilderness Explorer badges on the hat were printed from a Pixar website, cut out, glued to foam, and put on with super glue and a pin. His sash was sewn and the badges were printed out, glued to foam then glued to the sash.

For Russell: For the headpiece, Peacock feathers from Hobby Lobby were glued to a headband. Shirt was bought at Walmart and feathers from Hobby Lobby were glue to the collar and sleeves. For tutu, Tulle and boa feathers were bought at Hancock Fabrics and cut and tied to an elastic band.

Ideas for this costume came from a collaboration of ideas found on Pinterest.