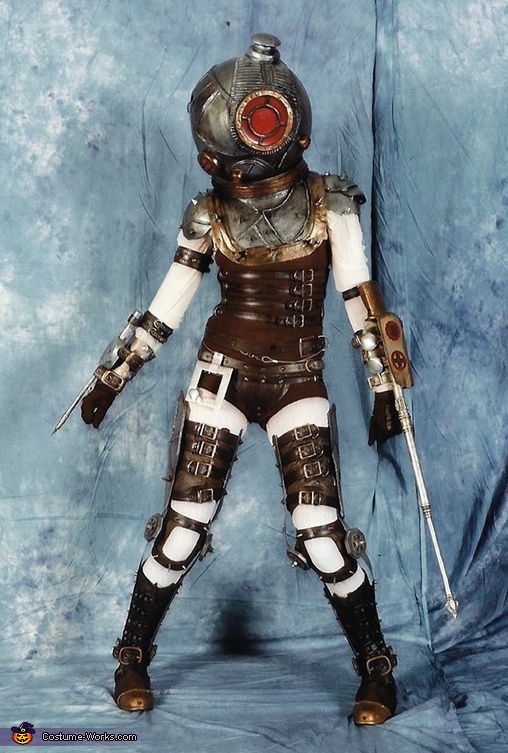 Big Sister (Bioshock 2)
More views:
(click to enlarge)
A word from Heather, the 'Bioshock 2 Big Sister' costume creator:
I made everything in this costume myself and am wearing it myself. It's made with a lot of different materials so I'll break it down into parts:
Helmet: Acrylic globe with holes made with a Dremel cuting wheel for the neck opening and to place the eye. 36 cut and shaped pieces of Worbla to form the outside of the sphere. The eye is made with dremeled and painted plexiglass, the insides of a disassembled taplight, and a "holster" inside the helmet made with Worbla and faux leather to hold the light in place - slightly away from the plexiglass so that it glows better.
All of the detail shapes on the helmet are made with a combination of fun-foam and Worbla on top of the sphere. Texturing was added with layers of Flexbond before painting.

The arm harpoons were made with a combination of sheet metal, shower curtain rods, Worbla, beer cans, pill bottles, wooden gears, faux leather (some painted to look like metal), vinyl siding, a wrench, and medical syringes.

The armor breastplate/mantle was constructed with Worbla, wingnuts, and steel spikes. The Pauldrons (shoulder armor pieces) are made with sheet metal and plastic with nuts and bolts and steel spikes.

For the boots, I bought faux-leather knee-high boots that were a size too big (she's supposed to look like an awkward teen) that I modified - I hand-stitched the front to fit my calves, added all the strapping and buckles, used plastidip on the toes and added spikes. Then attached the polio-like leg braces that I made. Those are made with vinyl siding, sheet metal, wooden gears, K-nuts, worbla and, of course, some more steel spikes.

All of the strapping on the costume was handmade - rivets, eyelets, spikes, and any other hardware was hand-set. I weathered all of that hardware by sanding it and painting it (down to every single rivet). I also hand-painted and weathered all of the strapping. And hand-painted and finished all of it from helmet to toes as it were. I made the patterns for the clothing parts - some of the "leather" that goes under the strapping is a stretchy knit faux-suede and some of it is vinyl faux leather.

Oh, and the metal square is just a metal picture frame that I sanded/weathered and attached with a thin bike lock cord....
necroleather.etsy.com