Homemade Witch Costumes
If you want to scare people on Halloween, one of the best ways is through the time tested, classic Witch Costumes! Witches are popular in our Homemade Halloween Costumes contest every year. Below are two homemade Witch Costumes with instructions, from our contestants: Mom LaKrisha and Mom Melissa. Ü
A Groovy Witch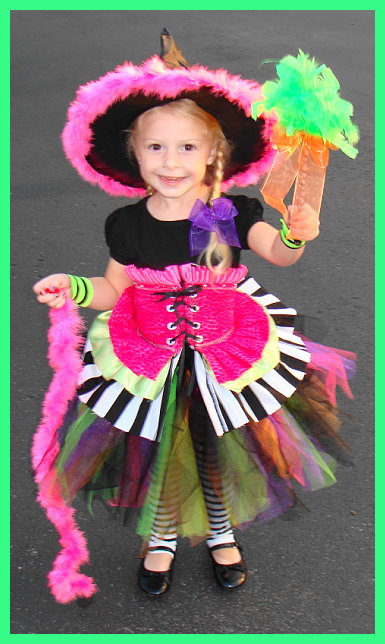 In the words of Mila's Mom, LaKrisha:

I sewed the corset on my sewing machine, and I also hand sewn several details on it as well. I did not use a pattern. I am not sure how much detail you would like, so here goes!
I measured my daughters size around her ribs were I wanted the top of it to fit her. I then cut a rectangle an inch longer and wider than my measurements for her. I hemmed the edges on all sides. I then cut three strips of fabric in different widths for the ruffles (2in, 4in, 6in)-and double the length. I then sewed each ruffle on by gathering the fabric like an accordion. I started with the shortest and repeated until the longest was sewn on. I did leave the ruffles unhemmed because I liked the frayed look. I then punch holes in the front and used Medium size Eyelets for the ribbon to thread through. I added an embroidery detail on the edge by the ruffles and rhinestoned the top edge with Swarovski stones. Black ribbon was laced through and tied at the top. I bought the black tee from target for $4 and the Striped tights for 98 cents. The tutu was hand tied on elastic cording. I used 5 different colors of tulle. I cut in 3 in striped and then in half and tied them on. I used about 6 yards on this one because I wanted it thick and full. The hat was a $1 and I hand tacked the pink marabou around. The witch's wand was made from a 12 in dow rod that was sprayed silver and black sequin was wrapped around it. Green Feathers were glued to the top along with an orange bow. Purple hairbows were handmade too. :) Whew! Was that detailed enough?... haha.
Yes Ma'am! Quite detailed instructions indeed! and I THANK you for all of your effort in writing it down! The Groovy Witch IS darn GROOVY I must say! Just BEAUTIFUL! Great Job Mom!
ARE you, perhaps, a professional seemstress? Ü
A WICKED Witch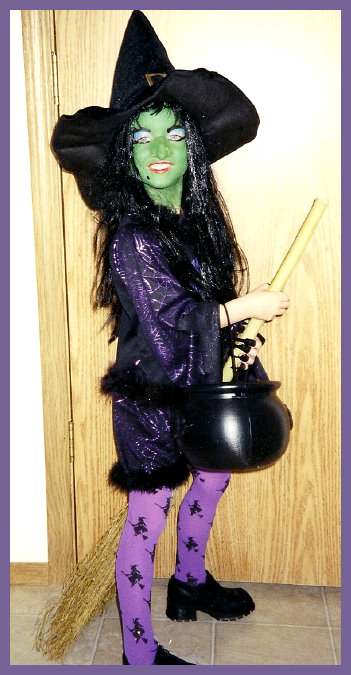 In Mom Melissa's words:

This was a store bought witch costume that only came with the skirt and top, but of course I had to give it a few extras. I found the great witch hat at a dollar store and attached a spider hanging from the top of it using thread. We added a wig of long black hair, long black nails, a wicker broom, witch tights, and a cauldron for her treats. But the fun part of the whole thing was the makeup. We attached a lightweight rubber nose over her nose and painted her entire face and neck green. We then added great eyebrows, eyelashes, lips, and even a mole. Nobody recognized her!!!

View other Homemade Witch Costumes:
If you don't have the time or the inclination to MAKE a costume this year. If you've thought about it, but your heart, for whatever reason, JUST isn't in it...You can probably purchase a costume of the type you were planning to make... and maybe even for about the same as you might spend on the materials to MAKE a costume. On the other hand, you may look around and spot a Costume that changes your Costume plans completely Ü.

Back to Homemade Halloween Costumes Main Page