Homemade Pippi Longstocking Costume
In Mom Melissa's words:

I started by buying a couple of patterns that would best fit into the shapes that I needed for the clothing. I made a bright pink dress with long sleeves. Then I adjusted a pattern to create a blue "apron" that would fit over the front of the dress. The "apron" criss-crosses and ties in the back.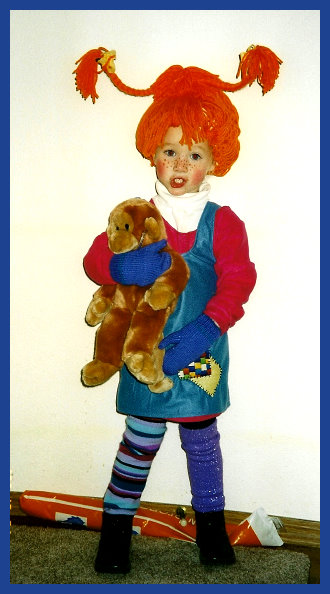 I added details by ironing on some misc. fabric swatches to the front of the "apron". She then wore black tights with mismatched colorful socks and black boots. In order to get the socks long enough I purchased adult women's socks (the kind with the individual toes in them) and cut of the feet and added elasticin the bottoms. I could of used leg warmers, but hard to find and not colorful enough. Although I was able to find Pippi braids on a headband, I was unable to find a complete wig. So, I gathered some material using elastic to fit over her head and then sewed and hot glued where needed orange yarn to match the braids that I had purchased. We completed the costume by adding Pippi's monkey, Mr. Nelson and giving her lots of blush and freckles. I think that this costume turned out so cute. Much better than any store bought one would have been.
Melissa I TOTALLY agree with your last statement! Ü



View other Homemade Costumes for Girls:
If you don't have the time or the inclination to MAKE a costume this year. If you've thought about it, but your heart, for whatever reason, JUST isn't in it...You can probably purchase a costume of the type you were planning to make...and maybe even for about the same as you might spend on the materials to MAKE a costume. On the other hand, you may look around and spot a Costume that changes your Costume plans completely Ü.

Back to Homemade Halloween Costumes Main Page