Homemade Bi-Plane Costumes
In Bobs words:

Started out using four cardboard boxes and four rolls of Duct tape my favorite...

The first box is the largest of them cut a hole in it to place over the pilots head to make sure he can get it in the bottom has to be bigger for walking in... (I know from experience!) then once complete I always look at it as if to semi scale of person wearing it I try to see it before I build it.
Bi Plane
My 9 yr old Josh is the pilot he is getting bigger and you see him in the transformer costume and in the tank costume I have built.

Yes you have to be a bit of a junk collector a piece here and a piece there you just have to in vision what it can be used for recycling is fantastic way to make these creations.

I wrap ever inch of the cardboard plane in duct tape when I have it complete. I use krylon primer spray paint. It helps adhere the top coat this year was krylon red and satin black for the engine cowl.
The reason for all the duct tape is cardboard is funny a little bit of moisture its done (warps, bends, swells)

The duct tape makes it possible to also fill in gaps and spaces its ok if its folded over and over it makes the plane tighter and more solid.

I also use a plastic cup and cardboard tubes for the upper wing support.
This time on my plane I took a remote control truck they had that was smashed but still worked and took it apart. To use the rear axle to put on the engine cowl so that the propeller will spin when he pulls the trigger. He loved it another product I use is glue and epoxy to hold the little rear axle on the cardboard and I used a cd and the rim of the toy truck tire to conceal the motor behind it and a spray paint can as the piece on middle of blade.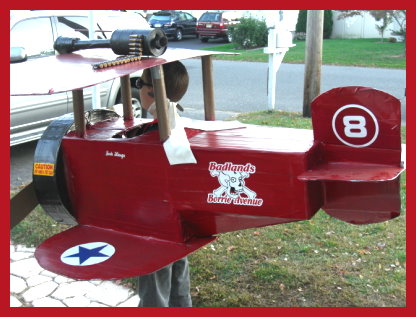 A pair of suspenders are used so he doesn't have to carry it it rides on his shoulders... And he is free to walk about freely like he is flying... It started out as the red baron... But I decided not to put Iron cross's on it so I used our neighborhood group symbol..
Thanks to Signs by Raymond in pt Pleasant for the decals that are applied.

I also try to use krylon clear coat to protect it even more don't go crazy it has a tendency to shrink both tape and paint so go lightly and many coats, but not truly needed...

More costumes created by Bob:
All my Thanks, As Always Bob!

The making of one of these "Cardboard Sculpted" Costumes can be quite a task.
I have not, as yet, seen a place to PURCHASE costumes of this type and if there were something like this out there to buy I am certain it would be quite costy.
Then there is the fact that some of these types of Costumes are "Vehicles" of some sort which the driver may wish to "park" and GET OUT OF at some point. You may wish to come up with your own, homemade "uniform" to go with the Vehicle to complete the Costume... which I am sure many Costume makers can do without much problem.

If you , however, find yourself short on time and/or energy (not surprising after all of the work with cardboard and tape Ü) You might just want to visit one of my favorite On Line Costume Stores and see what is available. In some cases the purchase of a Costume... or a "partial" costume, as would be the case here... may save you MUCH on time and wear and tear. As you may notice, the cost of Materials to make a costume...may be more than what you could/would pay for a costume already made. Just a thought. Ü

Back to Homemade Halloween Costumes Main Page