Zootopia Movie Family Costume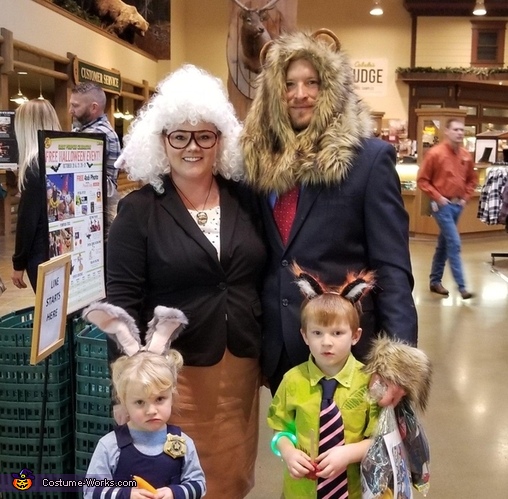 Zootopia family
More views:
(click to enlarge)
A word from Sarah, the 'Zootopia Family' costume creator:
With two small children in the house I've watched my fair share of kids movies and Zootopia is one of my faves. We decided my husband would be Mayor Lionheart which of course meant I would be Assistant Mayor Dawn Bellwether. The kids wanted to be Judy Hopps and Nick Wilde. These were such fun costumes to create.

For my husband I just purchased a suit coat and tie from Goodwill and then some faux fur from the craft store. I sewed fur cuffs and a mane and then attached ears. I made a tail that he could hook through his belt loop too. After our first outing before Halloween no one really understood who he was unless he was standing with the kids so I then created a name tag that said Mayor Lionheart from craft foam.

For my costume as Dawn Bellwether I felt the wig was the most important item. I purchased several wigs from amazon and none of them fit what I was envisioning. I finally found a cosplay wig website and purchased a huge white curly wig with bangs I figured I could style. A friend is a stylist and helped me to shape the wig to be more sheep-y, can you believe its actually on backwards?! I found an outfit that resembled one she wore in the movie from Goodwill, made a bell necklace, popped lenses out of a pair of thrift store sunglasses, a little sheep make up and ta-da! I couldn't resist making her mug from Lionheart too! :) My husband loved yelling "Smellwether"!

For Nick Wilde I just bought a pair of khakis and a white shirt. I dyed the shirt green and then used a stencil to get the feel of his Hawaiian shirt from the movie. I created his tie using pink ribbon and navy material. I made his ears and tail. Each costume had one very detailed item that was my labor of love. For my sons it was his tail. I couldn't find faux fox fur anywhere in my area so I bought yarn that seemed close to a fox and then basically carded it out to make it wooly again. I used a pet hair brush and straight iron to make it look like fur. I also made him a pawpsicle (not pictured) from red crayons and a silicone mold.

Judy's costume had the most detail and is what I spent the most time on. I bought a shirt and pants from walmart and then using navy broadcloth sewed her a vest and cuffs. I used a belt and felt to sew her tactical belt. I sewed her ears, tail and feet from fur I bought at the craft store. I used air dry clay to make her pen (it actually writes) and an old travel suncreen for the fox away. I created her badge from layering craft foam to give it a 3-D effect. For her feet I just sewed covers and attached them to a pair of rain boots using elastic. To make the look of the wraps she wears around her ankles/legs I just used black vet wrap on the top portion of her boots. Her knee pads I just sewed using craft foam, silver shiny fabric and some grommets from my scrap booking days.

Overall I probably spent around around or under $100. The base clothing is really what cost the most and my wig. For most of the little details I had all that stuff lying around.