Zombie Doctor & Nurse Costume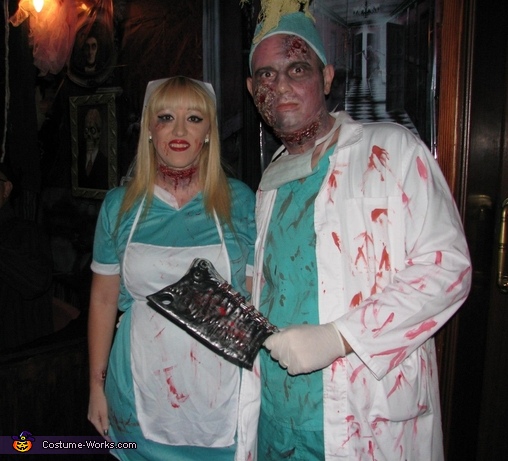 My wife and I in matching costumes. My wife did her own facial make up. I did the slit throat effect for her.
More views:
(click to enlarge)
A word from Joseph, the 'Zombie Doctor & Nurse' costume creator:
As great fans of Halloween for the last 3 years, my wife and I started thinking what best way we could dress up for this year's Halloween party! We soon came up with the idea to dress up in matching costumes... the Zombie Doctor and his Distrubed Nursing assistant!
My wife bought her costume from ebay whilst I bought a second hand doctor's uniform complete with Lab coat.
I had to do some research on how to create some effects to make the outfit a bit gory... and I also looked up some techniques for our facial make up.
To decorate my costume was quite simple. A little bit of fake blood splattered all over and applied by a small paitnbrush did the trick.
The most difficult task was the make up. After some research on youtube I felt confident enough that I would be able to create something. Not being a make up artist whatsoever, I headed to the local crafts shop and bought some liquid latex. I managed to create the Zombie effects (slit throats, slit hands, and face blisters) by applying several layers of liquid latex and tissue paper. There are several videos on youtube to guide you to do this. The most challenging part was to finish off the latex with make up to create the dead zombie look. I did my utmost to create a good contrast of blood, rotten skin and dead zombie-like appearance.
At the end of the day, I feel that I did a great job, considering the fact that I never experimented with liquid latex before!
Hopefully you'll like my photo and appreciate my efforts!