Jean Paul of the Dead Zombie Cat Costume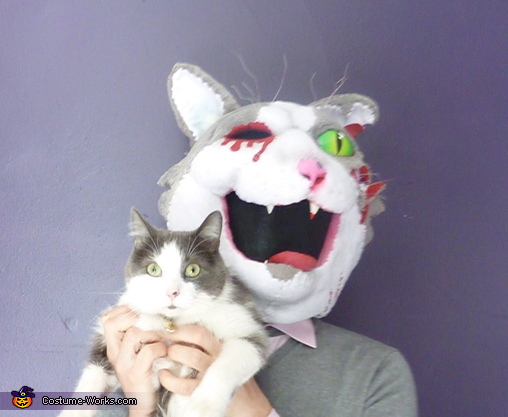 Jean Paul (the cat and the mask)
More views:
(click to enlarge)
A word from Ian, the 'Zombie Cat' costume creator:
Hello,
I am an artist based out of Montreal, Canada. For the last 4 years one of my primary practices has been the construction of masks using techniques that I learned while working in a mascot production facility.
You can find more examples of my work here: https://www.ianlangohr.com
This year's mask, made for Halloween and Zombie Walks, was inspired by my lovely cat, Jean-Paul. What's more popular than cats in our culture? ZOMBIES! Hence, Jean Paul of the Dead.
I also put together a youtube video that acts somewhat as a 'how to'. There are a lot of steps involved in making these masks, but this should give a general overview:
https://www.youtube.com/watch?v=AXtgtgsJa8Q