Yoda Carrying Princess Leia Costume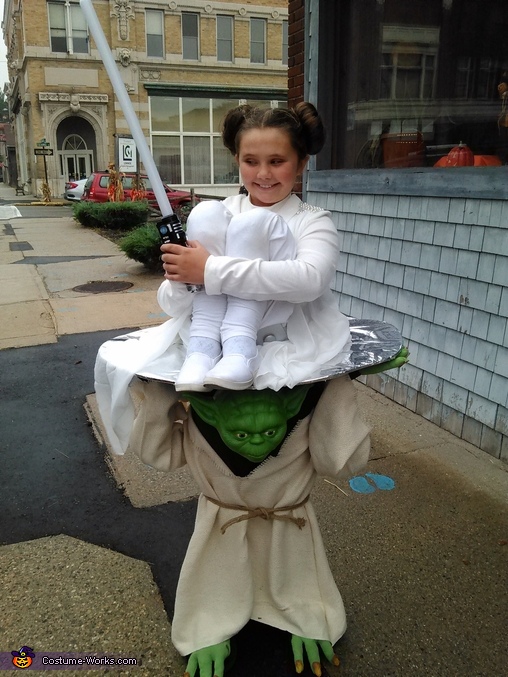 Yoda Carrying Princess Leia Costume
More views:
(click to enlarge)
A word from Kelly, the 'Yoda Carrying Princess Leia' costume creator:
My 9 year old daughter Kloee decide she wanted to be Princess Leia this Halloween after her Dad had our family watch all the Star Wars Movies and took us to see the new one at the Imax Theater. Our children had never seen any of The Star Wars Movies so it was a great family adventure. But we are big Yoda fans so we decided to add a little twist to her costume.
This was a very easy and inexpensive costume to put together. We purchased Princess Leia's dress at a local thrift store, rolled her hair in sock buns & stuffed some of Kloee's old pants and shoes for her legs. We purchased a Yoda night light attached it to an old boogie board that we cut a hole in, Kloee put her legs through the boogie board wearing brown leggings, we stuffed the arms of an old brown shirt that she also put her legs through, made Yoda's feet and hands out of green garden gloves and a Yoda robe out of some fabric and tied a rope around him. We used velcro to hold Yoda's arms to the board and bought a cheap lightsaber for Princess Leia to hold. Kloee was very happy Trick or Treating because the lightsaber lit up and so did Yoda's head!! Everyone loved her costume especially the Star Wars fans. MAY THE FORCE BE WITH YOU!