Mystique from X-Men First Class Costume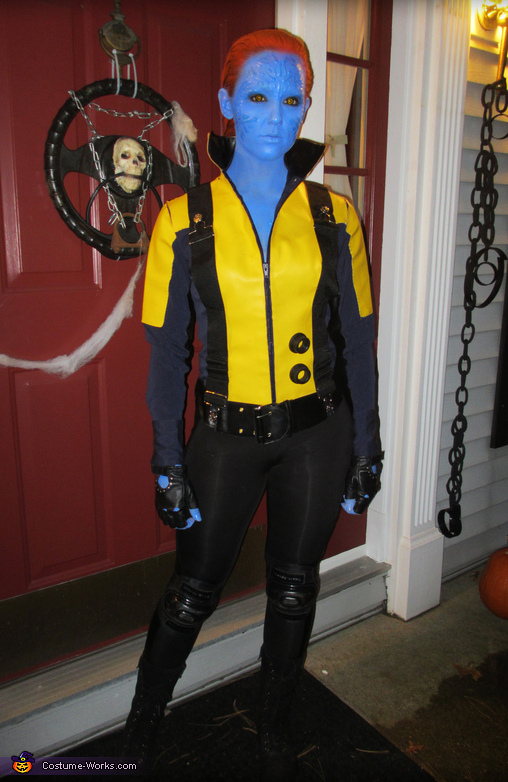 Full Costume
More views:
(click to enlarge)
A word from Katie, the 'X-Men First Class Mystique' costume creator:
My name is Katie Eastman and this year I transformed myself into Mystique from X-Men First class for Halloween! I have always been inspired by special effects makeup and love to watch shows like FaceOff on Syfy that show how makeup artists bring characters to life. I love watching movies and figured Iíd try a little movie magic myself! I decided to become Mystique because I enjoy her character and unique abilities. Her features are also distinct and her scales seemed like a fun challenge to create. Although her main form is an unclothed scaled body, I didnít want to be too revealing or have to create a full body spandex suit. Therefore I decided to become Mystique from X-Men First Class where the mutants wore uniforms. This was my first attempt at creating facial prosthetics, sewing a costume, and a full face/hair painting. The materials I used for my costume were:
Prescription Contacts = $56
Makeup = $50
Shirt from Goodwill = $5
Yellow Vinyl Fabric = $13
Black Pleather = $15
Black Nylon Ribbon = $26
Overall Buckles = $20
Rubber Accessories = $2
Zipper = $5
Red Hairspray = $5
(Some of these costs are estimates since I did not keep all the receipts.)
Along with these, I wore leggings, gloves, black boots, and skate knee pads that I already owned.
I spent many evenings working on my costume, using wax paper to create templates for fabric shapes I needed to cut out. I was able to use a sewing machine for the zipper, but due to my lack of sewing experience, I hand sewed the rest of the costume. Itís safe to say I needed a thimble when pushing a needle through thick vinyl. I also used fabric glue to help hold the yellow and black pleather onto the shirt I got from Goodwill. I also then cut and attached a belt onto the shirt along with the nylon straps and overall buckles.
For my makeup I started with liquid latex and used the end of a paintbrush to apply it to my face. Slowly but surely I painted the scales on my face in multiple layers until they were thick enough. After this I used an airbrush and based my face and chest in blue Kryolan makeup. I then used black and white airbrush paint along with my own personal eye makeup etc. to highlight my facial features. Once I covered myself in a makeup setter I then sprayed my hair red. Finally after putting in my contacts and getting dressed my character was complete! I was proud of the result and hope you enjoy it as well. I had a blast on Halloween getting into character and hitting the town with my boyfriend, Luke, who dressed up as Sabretooth from X-Men. Together we were mutant and proud!