WWE Wrestling Family Costume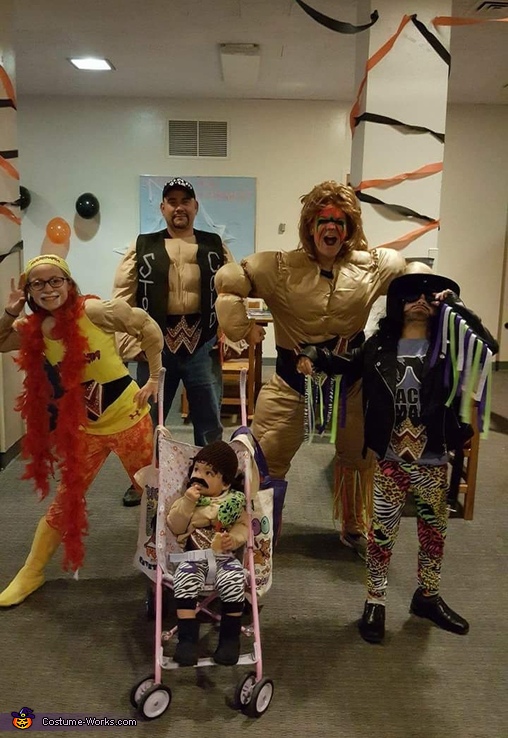 WWE Wrestling Family Costume
More views:
(click to enlarge)
A word from April, the 'WWE Wrestling Family' costume creator:
Ladies and gentlemen...

LET'S GET READY TO RUMBLE!

The Aramini family loves to dress up in theme each year. This year, my daughter wanted to be Hulk Hogan. So I went with it.

Mina as Hulk Hogan- I bought all of the stuff separately. I hand painted "Hulkamania" on both the shirt and bandana. The boots were difficult to find. So we opted for boot covers. We had muscles from a previous costume.

Macon as Macho Man Randy Savage- I bought a faux leather coat and attached various bright ribbon to hang with a glue gun.. on the back- I used felt for Macho Man letters. I used matching ribbon on his hat. The pants were a fantastic find! They are dance pants.

Meadow as Jake the Snake Roberts- We bought a strong man costume and used the muscles from it. I got a snake from the dollar store and I had it sewn on. I used a pair of her pants and hot glued snakes mades from felt on the legs. For her wig- I had a woman who made cabbage patch doll wigs.. I had her use a similar pattern but made it into a mullet with sideburns. Add mustache.

April as The Ultimate Warrior- I bought a body builder costume. I attached ribbon around elastic on my legs. I bought a tina Turner wig and cut it short. I used neon elastic on my arms and neon face paint.

Paul as Stone Cold Steve Austin- I bought a muscle top and a black vest. I painted stone cold on the vest and bought a plain black hat. I painted Austin 3:16 on it.

The belts are made from hard plastic black folders. I then attached a stretchy black material with a hot glue gun and tied them on us. I used paint and gold sequins. Careful- the glue peels and might not work for multiple uses.