Wreck-It Ralph and Vanellope Costume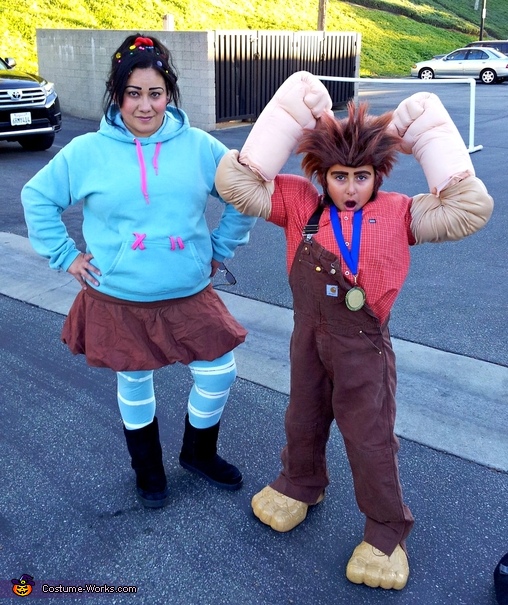 Wreck-It Ralph and Vanellope
More views:
(click to enlarge)
A word from Lisa, the 'Wreck-It Ralph and Vanellope' costume creator:
I made this homemade Wreck it Ralph costume for my Son this year. I also went as Vanellope for the fun of it. We were actually going to do another costume but were trying to think of all the movies that came out this year, and then we decided on this. We loved the movie and were inspired to do the costume. I make our costumes every year so I knew this would be fun.

For Wreck it Ralph costume, I bought khaki colored overalls on ebay and then dyed them a darker brown. I found the orange plaid shirt at a goodwill, the green undershirt at walmart. He is also wearing the muscle costume along with stuffing him to make him even bigger with white snow (Christmas snow) His wig was actually "The Wolverine" wig but looked exactly like Ralph. The feet were from Fantastic Four "The Thing" They were orange and I just spray painted them skin color. The Wreck it Ralph hands I found on ebay. I went to a trophy/medal store and they were able to make me a HERO medal that Ralph wears in the movie.

For Vanellope, I bought a white hoodie sweatshirt and white leggings and bought the RIT dye Teal and apple green color to get the mint blue-green hoodie. I bought a white skirt at goodwill and dyed it dark brown. I already had black boots to wear. My hair was actually spray painted black and I got real candy from dollar tree and hot glued them to bobby pins and clips to put in my hair. When I made the leggings, I just taped the lines off and measured them so they were all even. I used white fabric paint and painted in between the tape to create the lines. I had to do about 2 to 3 coats to cover the green. The purple line on the leggings was also fabric paint.

These costumes were really fun to make and my son got ton of compliments and he took many pics with fans on Halloween night.