Woody and Bo-Peep Couple's Costume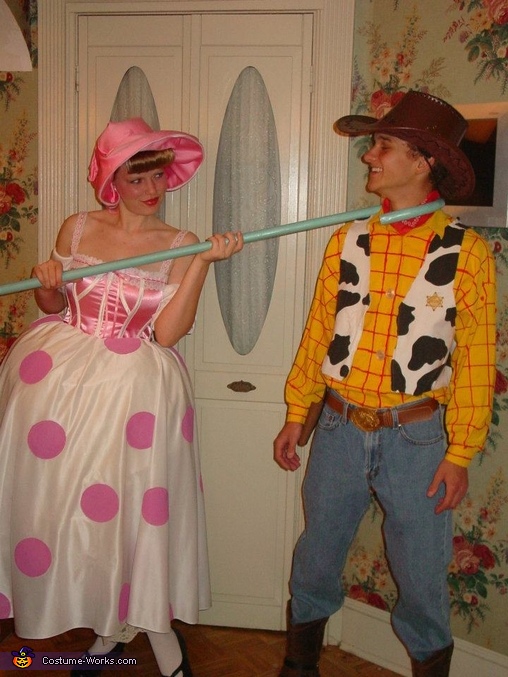 'Come Here Cowboy'
More views:
(click to enlarge)
A word from Avonlea, the 'Woody and Bo-Peep' costume creator:
Every year, we look at ourselves and decide what couple we could play convincingly, so our looks will lend to our costume. We were a shoe in for Woody and Bo-Peep.
Sick and tired of all of my peers going around in short miniskirts and cat ears, or X-Rated Disney princesses, I decided you could make a sweet and sexy G-rated costume.
I saved a picture of the couple on my phone, and for weeks, I would stop at every thrift store, garage sale, and garbage pile I passed, collecting any component I could find for either outfit, checking things off of my list as I went.


I made mine out of a 3 XL white polyester skirt, that we painted pink circles on, using paint dipped styrofoam bowls as a template, white tights, and shoes I found at a thrift store. The hat is actually a large white sun hat that I sewed pink fabric onto and tied into place with wire and fishing line. the sleeves were made out of left over skirt fabric. The shepherd's crook is a shower curtain rod and a large candy cane yard decoration wrapped in blue wrapping paper. I had a more accurate shirt, but at the last minute I borrowed my Aunt's corset for the party.(it wasn't a costume piece, it's her real lingerie). To give my skirt lift, we bunched up an old huge tulle mosquito net and sheets around a piece of elastic in the absence of a hoop skirt. Underneath, I wore light blue capris pajama pants fringed with lace as my pantaloons. I created doll curls by sculpting my hair around curlers (I left them in all night). For his, we thrifted to find a bright yellow shirt and cowboy hat and belt that looked plastic-y. We cut up an old set of cow pajamas for the vest, and found a cowboy belt buckle that we painted flat god to make it look plastic. We bought little kid party favor sheriff badges for his badge and spurs on his boots (I painted them gold to match the belt) We bought super large pearlescent buttons and I sewed them onto his shirt. I used a ruler and red sharpie to add the red stripes to his shirt. We cut a piece of wood into a matchstick shape, for woody's holster, and painted the tip white and red. I borrowed the holster out of my little brother's toy box, and we borrowed my pastor's cowboy boots. The pull string was the hardest to find, but I knew it was really important. Finally I was in the dollar tree and noticed a dog toy that was a white circle. It was the perfect size! We attached it with brown craft ribbon. We practiced our faces in the mirror.

These costumes were really inexpensive and easy to make!
We spent
3.25 - my black shoes
5 - his hat
4.25 - yellow shirt
6 - skirt
1 - sherriff badges
1 - doggy toy
13 - "Pink Pig" acrylic craft paint
$32.50
Surprisingly, the pink paint for the dots was the most expensive part! Everything else was found, borrowed, or something we already owned.
We've been dating for four years, and we love dressing up together! We thought this was good, because Toy Story is a big part of our, and our peers' childhood, and Toy Story three rekindled that in all of our hearts. It seemed a good year to bring back this nostalgic couple.