Woodland Nymphs Sitting on Tree Stumps Costume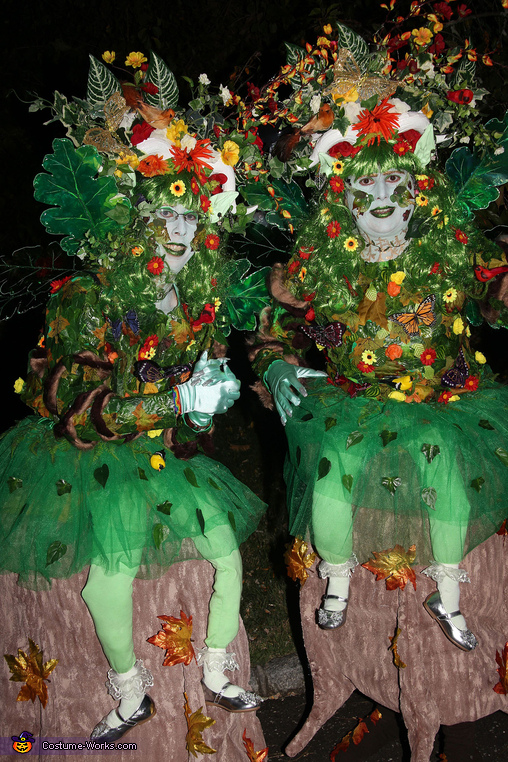 Woodland Nymphs on Tree Stumps
More views:
(click to enlarge)
A word from Bonnie and Beth, the 'Woodland Nymphs Sitting on Tree Stumps' costume creators:
We dressed as Woodland Nymphs sitting on Tree Stumps. These costumes were completely home-made. These were illusion costumes where our real legs were hidden inside the stumps, and we had fake legs which appeared to be sitting atop the stumps.

To start, we made headpieces. These headpieces were made onto headbands. We covered the headband with felt, to make a base. We got horns, painted them white, and glued them onto either side of the base. We then decorated the headpieces with a variety of flowers and tall leafy branches. We added artificial birds and butterflies as well. We also added a tiny strand of green battery operated lights, which were woven in and out of the leaves and branches. In addition, we wanted to add elf ears. We purchased some and painted them a light green. We glued them onto the headpiece, then punched holes in them and added some leaf and flower earrings dangling down.

We got long green wigs, which we wanted to decorate to look very nature-y. We glued on some dark green leaves, and then added red and yellow flowers here and there throughout the wigs.

To create the shirts, we started with plain green shirts as a base. We then glued a variety of leaves in different shades of green, and a few with brown or orange coloring, throughout the entire shirts. We tried to layer leaves on top of each other, to leave as little blank space as possible. These leaves covered the entire shirt, including the sleeves. We then glued on small flowers, spacing them here and there throughout the front and back of the shirts. We glued on a few butterflies as well. In addition, we wanted to make a few of the butterflies and birds really pop out from the shirts, like they were flying out from them. We used decorative green wire that looked a little bit like a vine, made a small hole in the shirts, then threaded it in and twisted it in place. We attached a few of these vines to the front of the shirts, then glued a butterfly or bird to the end of each one. The butterflies and birds then floated slightly in front of the shirts on the vines. To finish off the sleeves, we used very thick brown yarn in two shades of brown. We wrapped these around the sleeves and glued them in place, to look like roots wrapping around.

We got green wings that looked like leaf shapes. We then attached strands of the battery operated green lights onto the top and bottom wings on either side, outlining the leaves. To do this, we threaded clear fishing line through the wings at different points, and tied down the wire on the light strands every few inches, so it would stay in place.

For the skirts of the nymphs, we started with green tutu skirts. We then decorated them to look more leafy. We added artificial ferns, which we glued all along the top band of the skirts. We also glued artificial leaves here and there on the skirts.

The tree stumps were created out of brown fabric, which was sewn into that shape. Foam sheets were used to give them substance. There was an inner layer made of satin, with an elastic waist, to keep them from falling down. To give a more textured look like a stump, we painted the stumps with snow paint, which we tinted brown with acrylic paint. We also glued on some more leaves in a few spots.

We wanted the fake legs to look like they were coming out from underneath the skirt and hanging down over the tree stump. The legs were made from light green fabric, and stuffed to give them shape. We also put a heavy gauge wire inside, so they would be able to be bent into a more realistic position. These were then sewn onto the top edge of the tree stumps. To finish off the feet, we added frilly socks meant for kids, as well as shiny silver toddler shoes.

We got light green gloves to match the light green skin of the woodland nymphs. We got artificial nails in a sparkly silver, and glued them onto the ends of the glove fingers with the glue gun.

We wanted to do a make-up look to match the costume. We covered our faces and necks with light green cream makeup, which was mixed from green and white. We then used shiny red makeup to draw on flowers with gold centers. We drew roots onto the neck area with the gold makeup. We did the lips with green lipstick topped with green glitter. We colored the eyebrows gold as well. We finished it off with leafy face decorations which we applied with spirit gum.