Wonka Family Costume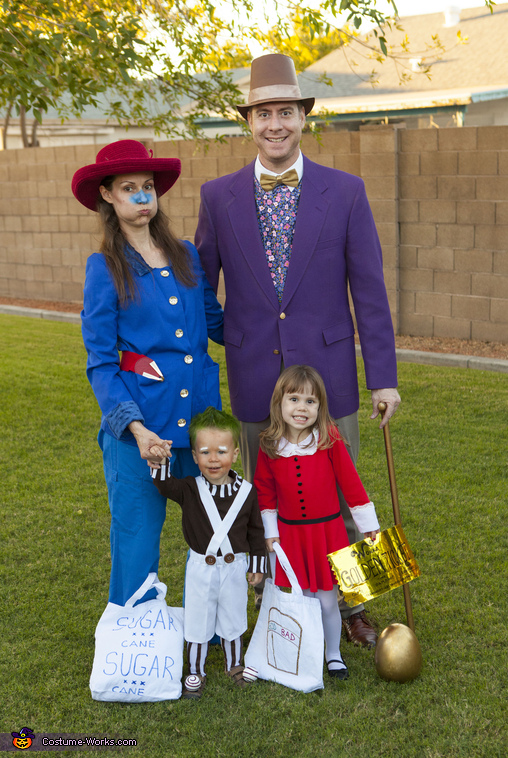 Our Wonka Family
More views:
(click to enlarge)
A word from Heather, the 'Wonka Family' costume creator:
My husband as Willy Wonka, my daughter as Veruca Salt, my son as an oompa loompa and myself as Violet Beauregarde!
I planned and worked on these costumes for 9 months!! Crazy, right?! It was so much fun making them myself by shopping at Goodwill, other thrift stores, craft stores and I even bought the golden egg at Walmart during easter time! (This is why I start so early!) I had to spray paint it gold though! I also spray painted my husband's bow tie, which was originally silver and 49 cents from Goodwill. My jacket and pants (that are actually scrubs) are from Goodwill. The blue fuzzy trim, also Goodwill. I used hot glue. I don't sew!! Everything is either hot glued or taped down with Hollywood Tape! My daughter's red dress is from Amazon. All of her accents along with my son's ooompa loompa turtleneck are temporarily attached with Hollywood tape so I can remove them after Halloween and they can wear as regular clothes! My make up and sonís eyebrow make up is from the dollar store. And my husband's hat was FREE from the dollar store because it was slightly damaged and they gave it to me! However, the hat was metallic hot pink! Painting it and wrapping the ribbon around it was one of the most difficult parts of these costumes!
My husband's vest is made from a ladies shirt that I cut up the sides and painted some of the flowers pink! His blazer was actually light purple and I spray painted it with dark purple fabric paint!
The oompa loompa suspenders and pants are from Goodwill and I believe they were a baptismal outfit. I had to add some white felt to the back to extend the suspenders. The balls on his shoes are styrofoam with brown sharpie swirls! And the tights on my son are his big sisters white tights with brown felt strips taped down. His brown turtleneck has white felt strips. His orange make up is my old bronzer! The golden ticket is hand written on paper from a gold gift bag! Also, from the Dollar Tree store! There is probably so much more I can say but I got the theme idea off of Pinterest and loved it because Willy Wonka Charlie and the Chocolate Factory is one of my favorite childhood movies! Thank you for this contest! I make our family costume every year and we have never entered a contest before!