Wonder Woman and Captain Steve Trevor Costume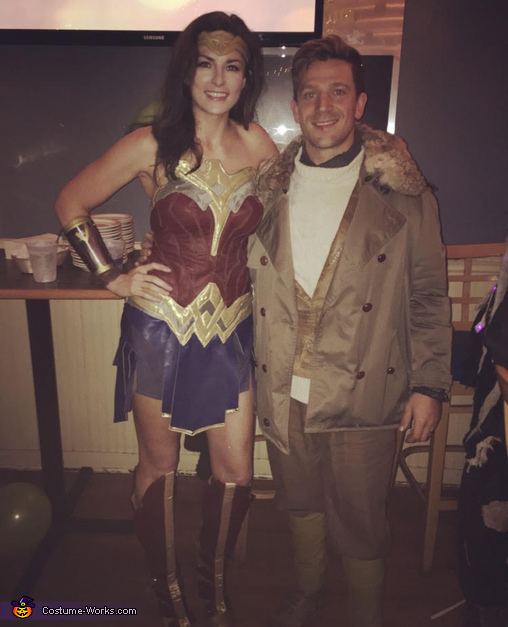 WonderWoman and Captain Trevor
More views:
(click to enlarge)
A word from Lindsey, the 'Wonder Woman and Captain Steve Trevor' costume creator:
My husband and I love an excuse to make costumes with an affinity for transforming old threads into new creations. 80s themed party? Bill and Ted are most excellently attending. Rock&Roll themed party? Vanilla Ice and Bjork are on the guest list. Cocktails and Comedy night? Upcycled formal wear will have the last laugh because, why not? With my husband's background in architecture and mine in display and merchandising, designing is one of our favorite pastimes together. Once we decide on the theme, we hit the thrift stores with a budget and a timer, Project Runway style, and then our living room transforms into The House of Nautamont (Trevor NAUTa, Lindsey MONTi, dorks, we know.). This year, my husband and I decided to make each otherís costumes. We saw WonderWoman, loved WonderWoman, and with my dark hair and Trevorís name, we decided to go as WonderWoman and Captain Steve Trevor.

We started in early October. The main body is from an old pleather skirt, a jacket, and itís lining. My arm cuffs are a cocktail shaker cut in half and spray painted with homemade stencils. My head band is craft foam (my personal favorite), cut and spray painted with gold and attached to an elastic. And my shoes are thrifted wedge heels, also spray painted and fitted with matching pleather then attached with rivets and stiffened with cardboard. My look was complete with faux eyelashes and black color hairspray.
For Trevorís costume, it was mostly tailoring pieces I found at the thrift store and a tag sale. The pants and outer jacket were brought in but I changed out the buttons on the jacket and shortened it. I added fur at the collar that came from the lining of a kids denim jacket. The leg wraps at the shins were formerly a pea green women's blazer cut and sewn, and his sweater was as is from a thrift store. The layered jacket was the most transformative- a women's polyester snake skin print blouse was cut to make sleeves and padded with a baby blanket we had from a previous costume endeavor. The leather was a former trench coat 3 sizes too big that I cut to fit Trevor and attached the newly created sleeves. The belt was made from a cut scrap of the leather jacket. To complete the look, pre-existing shoes that we held onto even after they were retired for such an occasion as this. Hoarders? We prefer the term resourceful.

Everyone said they really loved our costumes! Many asked about Trevor, apparently they weren't as familiar with Captain Steve Trevor. We entered one local contest, but we should've known the costume contest might not be judged fairly when only girls were allowed to enter (they kicked out a perfectly good though male Jimmy Neutron). Regardless, fellow superheroes told me WonderWoman was the best they had seen. We are hoping you will think the same:)

To all our fellow DIYer's, our heart beats with you. Well done, and best of luck!