Wolverine Costume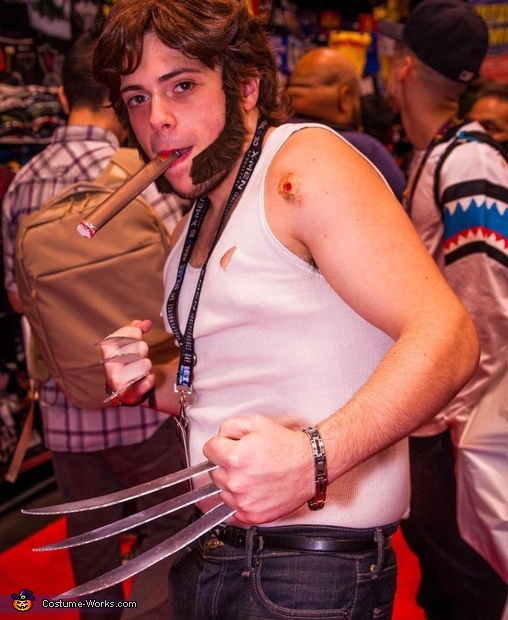 'Hey bub!'
More views:
(click to enlarge)
A word from Jake, the 'Wolverine' costume creator:
Hi I'm Jake! I'll be the one that's wearing the costume. The idea came when my girlfriend (pictured as storm) and I decided we wanted to go to comic con and dress up.
How to do wolverine
1. Wear your white tank top(add some rips) and jeans with a chunky belt and black combat boots
2. Buy a prestyled wig/ or like I did buy a women's short brown wig (available cheap on amazon) and cut it to the desired length then use curlers and or bobby pins to hold back the sides of the hair style. Remember always cut in small bits. You can always cut more off but you can't put more on.
3. Apply your prosthetic bullet wounds( available on amazon) with spirit gum and coat the outsides with a lot of adhesive so they don't move when you flex your muscles hehe
4. Claws... now this is the most difficult and time Consuming part but be patient and take your time. It'll be well worth the result.
-Choose your materials: Believe it or not I made my claws out of cardboard and chopsticks but you can interchange with a thicker material if you like
-Cut your "blades" to size: Make sure the blades fit comfortably in your hand and that the length is perfect. You'll need six blades( the shape of a claw)
-Cut a blade support: you can use anything to support and bind your claws but I inserted a chopstick through the base of the blades to hold everything. Make sure the spacing is good for your fingers
-Secure: Hot glue is your friend here. It's an easy fix and a great tool. While you're securing you can even make a little grip out of the glue
-Spray and dry: Spray everything with a mirror effect silver spray paint
-Wear: now wear 'em and impress all of your friends!

So that's it! Just add a puff cigar store bought side burns and you're wolverine bub! Have fun!!