Wizard of Oz Costume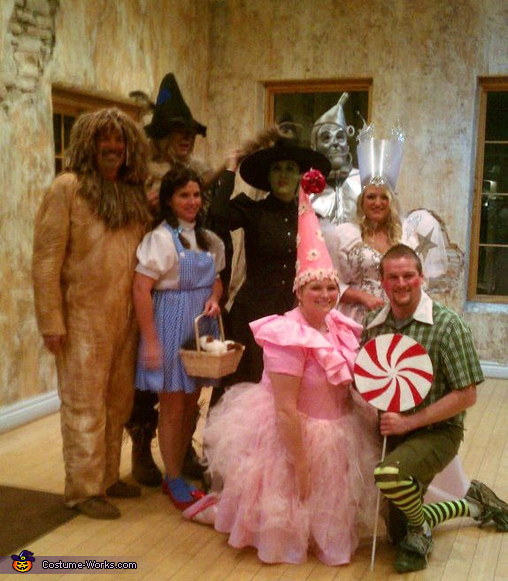 Wizard of Oz
More views:
(click to enlarge)
A word from Sara, the 'Wizard of Oz' costume creator:
Sara is wearing Glinda the Good Witch. This costume was a recycled prom dress,for the sleeves we used a pink bolero and attached tulle to make it puffy, the crown was made of clear plastic and adhesive jewels, the want was a small dowell rod with a star cut out of the same plastic used for the crown and covered in adhesive jewels.
Doug is wearing the Lion costume. This costume was made from dyed coveralls and yarn. We sewed the yarn together to create a mane and sewed and stuffed a tail.
Sandy is wearing Dorothy. We purchased this pre-made costume on EBay.
Taren is wearing the Wicked Witch costume purchased from the internet. She painted her face and hands green.
Eric is wearing the Tin Man costume. The mask was bought on Amazon, and the rest of the costume was handmade. Silver material was purchased from JoAnn's and we spray painted the boots silver.
Cody is wearing the Scarecrow costume. A plaid shirt, brown pants tied with rope, we used burlap around his face and painted his face. The hat was purchased online.
Brittany is dressed as a munchkin her costume was homemade from tulle, a t-shirt, and a cone we painted and decorated.