Wizard of Oz Costume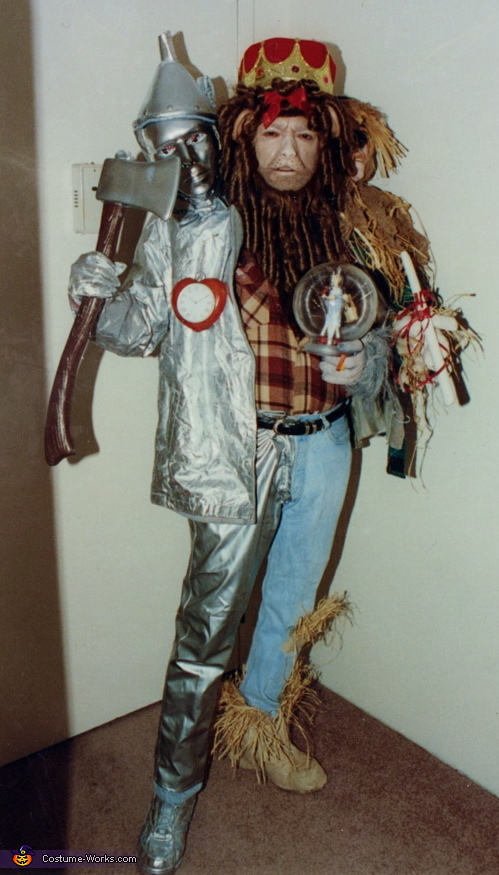 Wizard of Oz Costume
More views:
(click to enlarge)
A word from Jerry, the 'Wizard of Oz' costume creator:
This is a wizard of oz costume I made for my shelf.
I started by getting a suit jacket and 2 foam wig heads for the Tin Man and Scarecrow. Then I cut the jacket shoulders and inserted the foam heads. I made the costume so it can be put on and off easy with the jacket.
For the wig heads I used plain plastic masks and painted them to look like the Scarecrow and Tin Man.
My whole right side is the Tin Man. the hand holding a plastic ax he also has a heart pinned on him.
The left side of me is the Scarecrow all the way down to the shoe. He had a heart and my left hand coming out of the jacket is fake holding the diploma.
The center I glued rubber to my face and airbrushed it then I added a crown, I got a t-shirt and added fur. My left hand held the tail for the lion and the crystal ball of Dorothy and toto which lites up.
The pants are levis with on side Scarecrow and the other side shine chrome for the Tin Man.
I painted the right tennis shoe chrome and the left with bag material for the Scarecrow. The jacket is a suit jacket on one side I cut a windbreaker and painted it chrome.
The other side I sewed a shirt for the Scarecrow, I also added hay for the Scarecrow. I cut a string of Christmas lights and used four red lights for the eyes which I hook to a switch and used batteries.