Witch Costume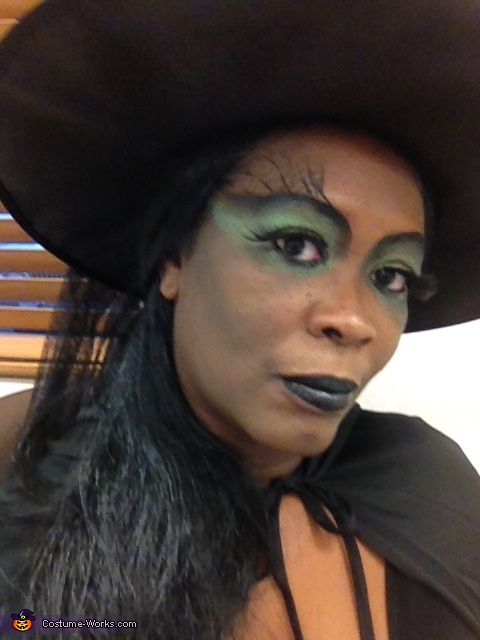 The eyes tell it all and looks into your soul!
More views:
(click to enlarge)
A word from Karen, the 'Witch' costume creator:
2014 was a year to remember! I started the year out with a New Year's resolution to just be myself. No matter the circumstance or situation, I just wanted to be me! Well, Halloween came around and I wasn't in the best of moods. All year, me being me made others think I was just being a witch (they really wanted to start that word off with another letter, but I won't mention it). Therefore, I decided to just be myself anyway...a witch. I saw some make-up tutorials on youtube, purchased some face paint from Wal-greens, liquid eye liner from Dollar Tree and the hat and cape from Party City. I already have a closet FULL of black clothes (surprisingly, it's my favorite color!) and wigs. I woke up early and painted my entire face with a lighter color of foundation (to try and get a pale look...yeah right) then applied the green to my eyes and drew a spider web from each eye. This was the first time I had dressed up for Halloween since I was a kid growing up in the hood who had to wear a pillow case and be a ghost EVERY DARN YEAR! Anyway, I put on my wig, black dress, with some black fish-net stockings (already had them), my black heels, the cape and topped it off with the hat. I also had a small net hat (I think I bought it from a garage sale years ago but it's my favorite). When I showed up at work, everyone agreed...YUP! SHE'S JUST GONNA BE HERSELF FOR HALLOWEEN! I had a ball driving down the street and staring into the car next to mine at the red light. These country folk were freaked out! ENJOY THE PICS!