Willy Wonka and the Chocolate Factory Costume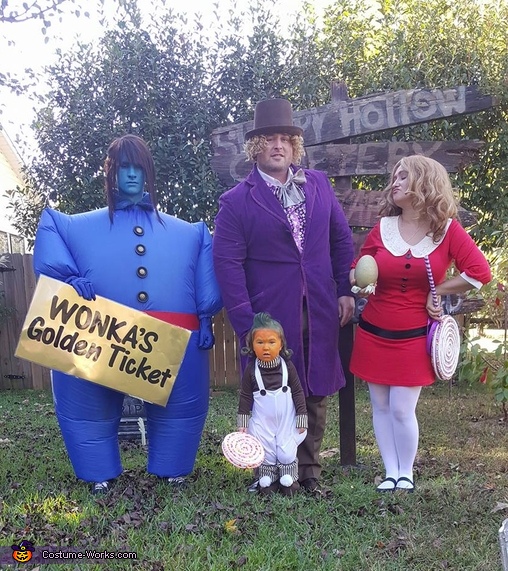 I GOT A GOLDEN TICKET!
A word from Sunzoe, the 'Willy Wonka and the Chocolate Factory' costume creator:
Family photo of mom dad and brother and baby sister.
Theme: Willy Wonka and the Chocolate Factory - original.
Items were purchased online and in local stores - America and China and assembled at home with sewing, hot glue, felt, ribbons, buttons, poster boards and sticker letters. Everyone but the baby has a wig on and the baby has her hair painted green and pinned in curls.
Some of the stores used: Spirit Halloween, Walmart, Hobby Lobby, Michaels, local and online wig stores, Amazon...laminated ticket at a local co-op.
Veruca's dress came red with only the white collar and sleeves; added buttons and ribbon for belt. Her shoes came from Walmart, modified with the sewing machine: sewed the strip to the top of Veruca's shoes.
Egg and lollipops came from Hobby Lobby as did the lettering for the ticket. I had to spray paint the egg gold.
I think the baby's costume came from Amazon and was not inher size so I altered every piece to fir her. I had to order a size too big for her white gloves and sewed them down to fit - which was a nightmare; she does not have them on in the picture.
I order the orange and blue face paint from Amazon and bought the most expensive so it would last. I did try a Walmart brand on the baby a week before and the color did not stick or last.
The blueberry costume came from the spirit store as just blue with the machine included. The belt and buttons were added with the hot clue: no holes were in the fabric from the glue. Red ribbon belt and two types of bottoms hot glued together to make one large button. I had to buy a blue jacket with a felt collar at Walmart: I disassembled the collar and then sewed it to the neck of the blue blow up suit. Gloves came with the suit.
Wonka's suit came from Amazon/Asia and was true to size: purple coat, vest, and I think neck bow. Pants and shoes came from Salvation Army in perfect conditions. Bought a white collared shirt from JC Penny. Wonka hat was Spirit store or Amazon.
Cost for everything was around $500.