White and Fran from DodgeBall: A True Underdog Story Costume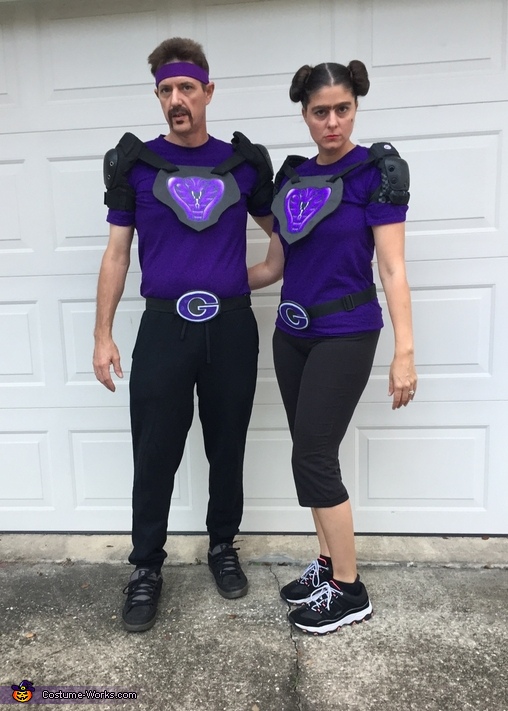 "Nobody makes me bleed my own blood"
More views:
(click to enlarge)
A word from Angela, the 'White and Fran from DodgeBall: A True Underdog Story' costume creator:
My husband and I are White Goodman and Fran Stalinovskovichdavidovitchsky from the hilarious 2004 movie, DodgeBall: A True Underdog Story. We love dressing up for trick-or-treating with our 3 sons and sometimes do family themed costumes when they are agreeable to the idea. We choose our costumes based on hilarity, and uniqueness, but we are also on an incredibly tight (almost zero dollar) budget. This makes it a little more challenging because the costumes have to be something we can create for next to nothing. Believe it or not, we managed to pull these two costumes off for a grand total of $12!

Here's how we did it: We were unable to find purple shirts at our local thrift stores and had to purchase them from a craft store for around $3 apiece, which was our biggest expense. The shoes and pants are from our own closet and White's headband is a piece of an old bathrobe tie. We purchased foam and felt from the craft store for around $4, which was used to create the Globo Gym logo on our belts, as well as the chest protectors. The belts themselves were items from around our home. One "belt" is actually the shoulder strap from a duffle bag and the other is a guitar strap! We attached the Globo Gym logo with velcro that we had on hand and secured the "belts" in the back. The Purple Cobras chest protectors were images found online, printed on photo paper, and glued to a craft foam base. The shoulder pads are our kids' elbow pads used for skateboarding. The final items we purchased were two "hair donuts" for $1 apiece, which were used to create Fran's buns.

We wore these costumes to take our kids trick-or-treating around the neighborhood. While most of the homeowners giving out candy were about a generation older than we are and didn't recognize us, several fellow parents spotted us and absolutely flipped out over our costumes! One guy even asked my husband to do the cobra imitation they do in the movie when entering the dodgeball tournament, "Kss! Kss!" and I was nearly crying with laughter, watching that spectacle! I am so glad that our boys aren't embarrassed by us...yet. I swear we always have more fun than they do on Halloween!