Western Costumes
Now here's one Category that I have SOME experience in.. as do most of us I'm sure. As children my brother and I often donned our cowboy hats and our guns n' holsters and faced off to see who was the quickest at the draw. He usually won, by the way, which might say something for why I preferred being the "Indian" in our games of the Old West. Below are a couple of OLD pictures, one of my brother and one of myself and my brother. Weren't parent's creative in those days? My mother made broomstick ponies, with a SOCK as head, that added to our role-playing games to no end! Speaking for myself: I RODE that broomstick horse while my imagination soared!
But enough about MY nostalgic Childhood days again... Here we are going to talk about getting YOU, and/or your family and maybe even friends, dressed up for doing some Cowboying, Cowgirling, or just plain Wild Westing. You can dress in a Gunslinger Costume or maybe in a buxom Saloon Girl Costume. At Recollections, "for women only", ladies of all ages can enjoy dressing in the fun and romance of the Old West or Victorian Days. She can be a Old West School Teacher... or she can don a beautiful Gown for an evening with the Cowboy of her dreams. Don't forget the children.... Children can dress in a Western Period Childrens Costume to suit his/her age... OR, and possibly more to the childs liking, they might like to play the adult this time and HE will be dressed in a Town Sheriff Costume or SHE might like to be outfitted in a grown-up Cowgirl Costume.
This lil Cowgirl below has the right idea... She is bringing her ride along with her:
The Costume is brought to you by Shindigz... my favorite Party Store who, I am happy to say, is beginning to add COSTUMES to their list of great products!
Western Costumes or Wear can be put together from many different sources of course. Some folks still ARE Cowboys…and some are simply more comfortable in traditional Cowboy Clothing so they wear their Jeans, Cowboy Boots, and Cowboy Hats on a daily basis. The reason I'm saying this is because IF you prefer putting together your OWN Old West Costumes.. The basics can be found at any regular Western Wear Clothing store. Check out Sheplers for ALL of your Western Wear needs... even if you are a Cowboy (or Cowgirl) every day!

Here's a picture of a family together for some photo fun Western Style. What great memories a photo like this one would provide.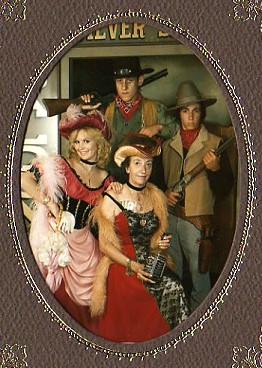 The Old West, being the wild times that they were, often required one to have a firearm of some sort on hand...or on HIP as it were. For Costuming sake..there are TOY weatern guns that can be purchased at your local toy store. I must commend toy makers that they now put a red band of a sort around the end of the barrel of the toy weapon for easier identification by police, or whomever else may be concerned.
Once you are dressed up and outfitted in your Old West Costume, it is time to go see what kind of dust you can kick up at the nearest Western EVENT. There are MANY. There are Ghost Towns to visit and one can usually participate in Activities there ESPECIALLY when you are in Old West Costume. There are many Historical Re-Enactments throughout the year, things like famous Shoot-Outs and even the Wagon Train that travels the Oregon Trail, everyone in full Western Period Dress of course. There are Competitions in Fast-Draw, Shooting, Riding and Roping. There are Wild West Shows and Fairs. Then you have your Chuck Wagon Supers, Square Dances, and Rodeos.
There are PLENTY more Western Activities and Events. They can often be found advertised in your local newspaper, through billboards and fliers, Word-of-mouth is always good. You can also find local Old West/Wild West/Western Activities and EVENTS by checking the Online Search Engines! That's what I did ..and I just found a few places that have all KINDS of "Western Event Information".
Western Costumes can be found through these pages, and online shopping is the EASIEST way to go... so come on ya'll... Get your hat and boots on and let's hit the dusty trail. "Get along lil doggies. Yee Haw!"